The Serta Raised Air Mattress with Never Flat Pump comes in Twin & Queen sizes and, budget-wise sits around mid-range for raised air mattresses.
It offers Serta's patented Never Flat pump, which will help to keep the bed inflated throughout the night to combat the ever-frustrating phenomenon of air mattress overnight deflation.
Let's get straight into the review.
In A Hurry? Our Quick Decision…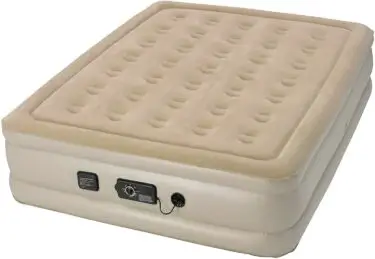 This air mattress is for the buyer who needs the closest thing to a bed replacement.
This air mattress is worth purchasing whether for everyday use or a more comfortable sleep for guests.
It is not a good option for camping or backpacking because of its power needs and weight. If you're going to spend the extra money on this mattress, make sure you value the quality it is offering. 
Options & Price Point
This air mattress comes in two sizes, Twin and Queen. Both sizes have the same raised height of 18 inches. The Twin and Queen both fall in the high-end price range for their respective sizes.
Specifications & Warranty
Specifications
Price Point
Material
Sizes
Twin
Queen
Elevation Options
Warranty
The Serta Raised Air Mattress with Never Flat Pump comes with the Amazon 30-day return policy.
Additionally, it has a 2-year limited warranty. This warranty is limited to defects in materials and workmanship.
To be clear, it does not cover what Serta deems, normal wear and tear. It is worth noting that even though the mattress is branded Serta, the warranty is covered by Exxel Outdoors.
Inflation & Deflation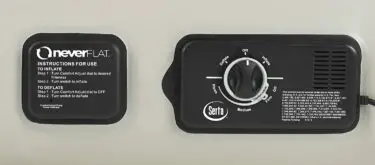 This air mattress comes with two different built-in pumps. One pump is for the full inflation and deflation of the mattress, while the second pump is the never-flat technology.
The mattress can be inflated to three comfort level settings: plush, medium, or firm. The dial is clearly labeled, and easy to select your settings.
The never-flat pump is responsible for maintaining the air pressure throughout use. It automatically turns on when it senses the air pressure is lower than the comfort level selected. It then turns off once comfort level is achieved.
By simply turning the dial, you can choose to inflate or deflate the mattress, all in a matter of minutes.
The comfort level settings are a time saver because you can just flick on the pump and leave it to do all the work without fear of overfilling or overworking it. The pump shuts off once it's full, and the second, never flat pump, ensures it stays that way.
Portability
Each air mattress has a carrying tote, perfect for bringing it along on your next overnight stay.
They aren't built for backpackers or other lightweight severe trips. However, they are comparable to most standard air mattresses. The twin weighs close to 15 lbs and the Queen size weighs around 20 lbs.
When packaged, the Twin is approximately 17x15x8 inches, and the Queen is 22x15x9 inches. Both are reasonable sizes to fit in the car or store at home.
Special Features
Pump Technology
I would be crazy not to mention the pump technology as a special feature when the air mattress has two pumps that work together.
The main inflation/deflation pump will work quickly and shut off when it reaches the preset level determined by the comfort settings. Pump two will then work endlessly to maintain the pressure level while inflated.
It should not be overlooked that the never-flat pump solves air mattresses' biggest shortcoming, deflation.
Circular Coils
With twenty-one coils on the Twin and thirty-five on the Queen, this air mattress has all the support you need for a comfortable sleep. The coils help the bed maintain shape and structure so your bed holds its integrity.
Raised Height
This is a major plus for an air mattress. You'll notice the difference in getting in and out of bed with this 18-inch tall mattress.
This is a great feature if you or your guests have difficulties getting in or up from low-lying furniture. The height adds luxury to an air mattress, making it feel like a real bed.
Ideal Use Cases
Regarding air beds, this mattress is on the higher end of options. That being said, there are certain environments it will excel in, and there are other environments its application doesn't make sense.
Home Use
Occasional Home Use
One hundred percent, yes. This mattress is brilliant for an overnight (or multiple nights) guest. The raised height and promised inflation mean you can host with less stress.
While some people can rough it, sleeping on any horizontal surface, this air mattress is perfect for those who need and deserve, better.
If you have older guests or often have in-laws staying for the weekend, investing in a quality air mattress is a purchase worth making.
Everyday Home Use
For sure. The Twin and Queen options allow you to pick the size that best suits your life. Having an air mattress that is taller, plugged in, and constantly stabilizing pressure is the closest thing you can get to a real bed.
Some people switch from real mattresses to air to help manage certain body aches. This mattress has the quality you look for in an everyday use situation.
Outdoor Use
Camping
Not ideal. This air mattress is reliant on a source of power. You need it to be plugged in to inflate.
Also, given the higher price of this item, you probably don't want to risk damaging the mattress while camping. However, if you're headstrong and your campsite has power, it is possible to use.
Backpacking
No. For many reasons, this air mattress is not meant for the wild. The necessary power source and weight of it make it incompatible with backpackers.
Travel
Quite possibly. This mattress is ideal for travel trips that have access to an outlet and an environment that is relatively controlled.
The mattress is higher-end, so you want to ensure you take good care of it. Placing it on flat, clean surfaces and ensuring dry conditions is the perfect way.
If you're packing up and heading to your friend's cottage for a few days, then this is a great air mattress option.
Things We Love
Tote bag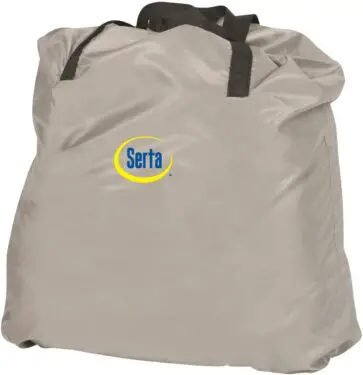 Nothing is worse than taking an item out of the covering and never being able to get it back in. That is why I love this tote bag so much. It comes included in every purchase and is made to a proper size.
The bag leaves room for life. And by life, I mean no one has the time to iron every wrinkle out and meticulously fold the mattress perfectly.
So deflate and rapidly fold it up, because the tote bag has room to spare for your air mattress to fit in.
Quiet Pump
Fear no longer; you will not be woken up in the middle of the night to some horrible pump screeching.
The secondary, never flat pump is whisper quiet. It will adjust the pressure with ease and minimal sound. Sleep the whole night through, none the wiser to all the air pumps work.
Know Before Buying
Three Comfort Levels
As previously mentioned in the article, the air mattress is inflated to three comfort level settings.
This, unfortunately, means that if you don't like any of the three comfort levels, you're out of luck. However, many people have been able to find their setting with the few options offered.
This is something to keep in mind if you are particular about firmness.
Control Panel Separation
The most common problem with the mattress is that the control panel/pump system separates from the material.
This results in a hole and an air mattress that doesn't inflate. You can contact customer service and discuss it with them if it is under the two-year limited warranty.
Many people have received timely replacements for their damaged mattresses, and it doesn't happen very often.
Great Customer Service
Should you need to contact their customer service for warranty and other issues, they are highly reviewed—nothing but great remarks for their assistance to Serta customers.
Final Verdict
There are many benefits to owning this air mattress. If you need a quality air mattress for special guests or the best sub-in for a real bed, the Serta Raised Air Mattress with Never Flat Pump is a great choice.
It is worth investing in for the use you're going to get out of it.