An Air sofa bed is one of the most versatile inflatable products at home. These blowup sofas, which double as beds, can be used in various ways.
From hanging out in your child's game room to reading a nice novel by the pool, there is an endless sea of possibilities. They also can be used for catching games in your living room or basement until you are ready to sleep.
Top 5 Sofa Air Bed Reviews
Here are the 5 models worth your time and money during shopping. A glance through the features of each one, and you should have an idea of the best for your needs.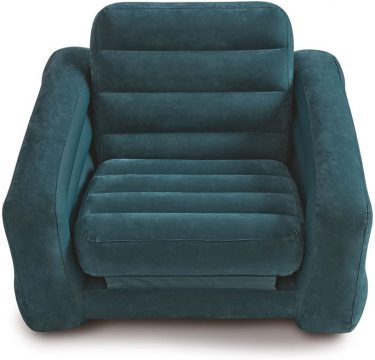 This is an excellent product for those who want the flexibility of a lounger chair during the day that converts into a bed at night. The bed is only twin sized, so ensure you're not planning to share it.
WHAT WE LIKE
Good Design – Quality design with special features to enhance comfort
Pulls Out To Become A Bed – The sofa can be easily pulled out to become a twin-sized bed
Comfortable – Sink into this air chair and relax
Cup Holder – Included cup holder is a nice extra touch
KNOW BEFORE BUYING
Reinflation Needed Often – You may have to re-inflate routinely if used regularly.
Pump Not Included` – You'll need to purchase a pump separately.
The Intex Pull-Out Chair Inflatable 43x86x26 inches is a quality sofa bed with an air mattress that has made waves since its release. The Intex brand is king in this market, and you get to see why within a few minutes of examining this model.
It is typically an inflatable chair by day and a twin-sized bed by night. It is highly versatile and saves you the cost of spending money separately on a bed and an inflatable couch.
This inflatable bed/sofa is great for those with bad backs and recuperating from accidents. It has super comfortable backrests and armrests to support you while you sleep or watch TV.
The pull-out chair is constructed from top-quality vinyl material to withstand daily usage for a long time. It is aptly engineered to give you significant comfort levels to enjoy it continuously for hours.
How do you switch from sofa to bed, and will you need extra help? If this question is wandering in your mind, you are not alone. That was the first question that popped into our minds while testing the couch.
The good news is that switching from couch to bed and vice versa is so easy a 5-year-old could get the hang of it. It would help if you pulled out the cushion to transform it into a twin bed when sleepy.
It features a well-designed 2-in-1 valve with an open wider than the competition. This ensures extremely quick inflation when you need to set up your air bed sofa and deflation for storage.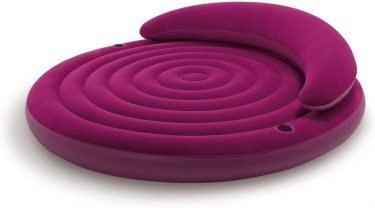 A good product that happens to be in and out of stock a lot.
WHAT WE LIKE
Super comfortable queen-sized airbed that converts to a luxury couch
Comfortable backrests and armrests for ultimate relaxation
Constructed from quality vinyl material
KNOW BEFORE BUYING
Included pump requires a power outlet for inflation and deflation
You will have to get a separate bed for camping and other outdoor trips
The Intex Ultra Daybed Inflatable is a queen-sized air lounge sofa bed that can take your relaxation to the next level. It has every feature imaginable to ensure you can rely on it day and night.
This convertible airbed lounge is manufactured from quality vinyl material noted for standing the test of time.
It features a 21-gauge waterproofed flocked top finish which guarantees comfortable seating. This material is equally awesome when you transform your lounge chair into a bed for day/night naps.
In fact, it is so comfortable that you'd have to suffer from the worst case of insomnia to be unable to sleep.
Do you love watching TV on a comfortable couch? Or are you a bookworm like some of us and prefer reading all day? This convertible queen-sized sofa bed has got you covered!
It is integrated with super sturdy yet comfortable backrests to hold your problematic back firmly in place to avoid injuries. Even with a bad back already, you should have no problems hanging out in this unit for many hours.
You get strong armrests for ultimate relaxation when seated in the inflatable couch mode. 2 cup holders have been built into the armrests for holding coffee cups and soda bottles to prevent spillage.
These holders can hold reading glasses and other fragile items that break easily.
The sofa ships with a high-powered pump for quick blowup and deflation. It also comes with a duffel bag for travel or storage.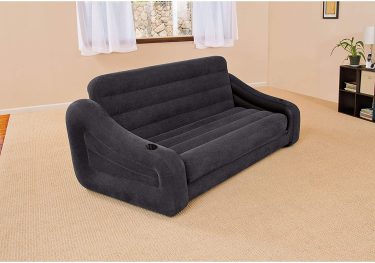 A tried and true option that has been on the market for many years. This is a great option for those looking for a waterproof air filled sofa that turns into a bed.
WHAT WE LIKE
WHAT WE LIKE
Indoor + Outdoor – Designed for use both indoors and outdoors
Transforms To Two-Person Bed – Pullout chair quickly transforms into large airbed for two people
Very Comfortable – Engineered for your comfort all day long, whether sleeping or seated
Durable Vinyl – Manufactured from quality vinyl material to ensure extensive usage
KNOW BEFORE BUYING
Needs Air Periodically – Airbeds must be topped off routinely when used regularly to maintain firmness levels.
The Intex Pull-Out Sofa Inflatable Queen 76x91x28 is our pick for the best air-filled sofa bed. It gives you the perfect solution for seating and sleeping two people.
If you are looking for the flexibility to relax anywhere you want, at home or outdoors with your partner, ignoring this model could only lead to regrets.
Crafted to seat and sleep two people, this airbed sofa is built to stand the test of time. It is constructed from quality vinyl engineered with the necessary support to ensure absolute comfort for you and your partner.
While many airbeds which double as sofas come with several inflation and deflation problems, this is an exception. It is integrated with 2 wide valves to ensure high-powered inflation and deflation within minutes.
This airbed sofa is designed for use just about anywhere. It has covered you from watching TV at home to reading by the pool. If you are not a big fan of sun loungers, this model can be a great option for you at the beach too.
It comes with the necessary instructions to ensure inflation to your desired level of firmness every single time.
The sofa is easy to pull out whenever you and your buddy need a quick nap. It can be easily pulled back in to become a sofa again when you are done sleeping.
Whether you are going on a road trip or want absolute comfort for your guests, this is a no-brainer.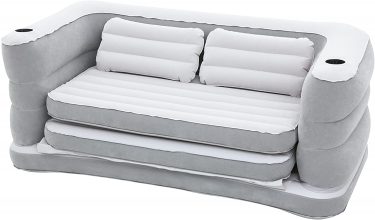 This product is good for you if you want to spend less money than the other options.
WHAT WE LIKE
Great For Two People – Super comfortable inflatable bed/couch for two people
Strong Backrest – Strong backrests and armrests to give you stellar support
Cup Holders – 2 cup holders for holding refreshments
Durable – I-Beam construction to give ample support for two people
KNOW BEFORE BUYING
Requires Electric Pump – Not convenient for camping and other outdoor activities unless you have an electricity source for inflation/deflation
Needs Topping Off – You must get used to topping it off with air if you plan to use it regularly.
The Bestway Multi-Max II is a super comfortable sofa air bed mattress with many options. It comes in an elegant neutral color finish that blends flawlessly in any home.
Finished with a flocked surface and sides, this airbed sofa takes comfort to another level. You can sleep or sit on it all day long without body pains or discomfort. This is unlike competitor products which cause discomfort when used for long.
How sturdy is this inflatable sofa/bed, and how many people can it support? The Bestway couch bed is engineered with super strong I-Beam construction to support two people.
Unless one or both of you is morbidly obese, you can expect this unit to hold up extremely well.
Shipping with 2 pillows and strong armrests, there is no reason why you should be uncomfortable in this bed/couch. It also features strong backrests to support your lumbar areas and prevent backaches.
What if you already have a bad back? Well, those strong backrests are meant to relieve pain in several areas, too. It features 2 cup holders for convenient refreshments whenever you are in the mood.
This couch gives you ample room to hang out with a buddy at its fully inflated dimensions of 79x63x25 inches.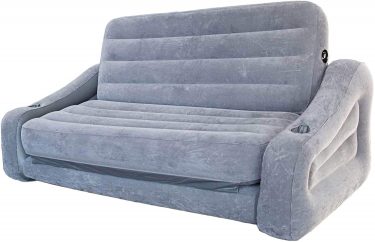 A great product that folds up really easily. Great for people who want a comfy futon that converts to a bed on a whim.
WHAT WE LIKE
Perfect air mattress couch for both indoor and outdoor use
Extremely comfortable flocking fabric so you can enjoy your leisure hours
KNOW BEFORE BUYING
Not built for use as a permanent bed because it may not last that long
The Intex Inflatable 2-In-1 Pull-Out Sofa and Queen Air Mattress is a quality model that gives you awesome comfort at home or outdoors. This unit remains one of the most innovatively designed on the market.
The manufacturer specifically builds it to conform to the body's natural contours. This airbed sofa has a sturdy bearing capacity to ensure maximum support and reliability.
This makes it reliable for keeping you and your partner comfortable even if you weigh a few extra pounds.
The flocking fabric component means you will likely feel comfortable even if your skin is sensitive. The material is popular in the baby apparel industry, so you can be sure that any discomfort is out of the question.
You must remove the removable back cushion, and your inflatable mattress transforms into a comfortable bed. There's no need for an extra pillow when sleeping on this 1-in-2 air mattress.
This is because the built-in lumbar support is extremely comfortable for you to lay your head on.
It comes in a lightweight design which is easy to carry while traveling. The included carrying bag also comes in handy during storage.
The armrests feature optimally designed cup holders for bottles and cups. It gives you the freedom to enjoy your leisure hours without interruptions.
Finding the Best Air Sofa Bed Online
If you think only a handful of air sofa models are available for you to scan through and choose from quickly, you've got another thing coming. The number of options available is numerous to the point of confusion.
The fact is you have to be crafty not to end up with a junk product.
Quality of Construction
Sofa air beds on the market today are infamous for their poor quality of construction. Most of these units start leaking air after a few rounds of use and can be a waste of money.
This is why it is important to choose one that is built with quality materials. Each of them typically has a weight limit, so ensure you fall within it before buying.
Comfort
Inflatable couch beds are built for ultimate relaxation, so your comfort should be a priority during your search. Make sure you choose one manufactured from flocking material or vinyl.
These materials tend to hold up extremely well over time, thereby eliminating discomfort after extensive usage.
Inflation/Deflation Mechanism
How does your inflatable couch bed inflate and deflate? Does it come with an included pump? If yes, how many minutes does it take to inflate it to your desired firmness fully?
These are legitimate questions you must seek answers to if you want to end up with the best models available.
Price
No matter how much money you have to spend, you cannot ignore the price. Select a model that gives you the best bang for your buck.
Don't mistakenly take this to mean you should buy the cheapest unit because you always get what you pay for.
The Verdict
Finding a quality air sofa and bed is not something that everyone gets right. In fact, most consumers end up with inferior models that only last a few weeks.
While no one expects you to use these inflatable bed couches permanently, you deserve to get value for your dollars. This is why we have taken the time to investigate and develop the top 5 on the market.
These sofa air lounge beds are fairly new on the market, so getting one now can give you major bragging rights among your buddies.
The Intex Pull-out Chair Inflatable Bed, 42″ X 87″ X 26″, is our number one pick for the best air sofa bed. It comes with awesome engineering to meet your needs.
What if you need an inflatable couch bed for you and your partner then buy the Intex Pull-Out Chair Inflatable 42x87x26