Thin air mattresses are ideal for camping because of their compactness, making them easy to pack for storage and travel.
Short on space? Uncomfortable camping on the ground? A thin camping air mattress may be the solution you've been searching for.
Our Top 5 Picks for the Best Thin Camping Air Mattresses
With countless options for camping air mattresses available on the market, finding the perfect one to fit your needs can be overwhelming.
But we've done our homework so you don't have to! Here are our top 5 picks for the best thin camping air mattresses on the market.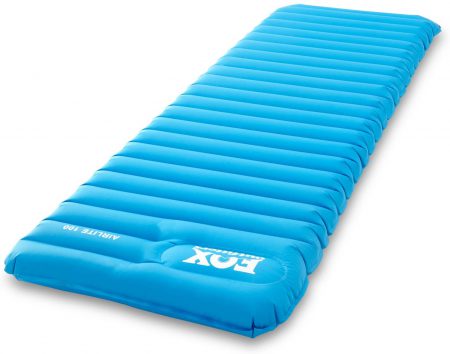 This model is a great lightweight and comfortable air mattress for all your camping, hiking, and backpacking needs.
WHAT WE LIKE
Highly Durable – Diamond Ripstop material provides resistance to tears and punctures.
Integrated Foot Pump – Integrated pump ensures quick inflation and deflation
Very Comfortable – Airtube system ensures comfort
Compact – Tubular design makes it easy to pack for storage or travel
The Airlite Sleeping Pad is designed for backpackers, campers, and anyone who spends much time outdoors. This model is super comfortable, compact, and lightweight.
The innovative tubular design guarantees the ability to pack this mattress to fit in small spaces compactly, and the integrated pump enables quick inflation with minimal effort. What's more, the integrated pump doesn't require batteries!
Double brass valves, which ensure secure inflation and deflation, are integrated into this air mattress to promote overall durability.
The thick tubular design of this mattress provides maximum comfort, and the Diamond Ripstop material provides impressive resistance to tears and punctures.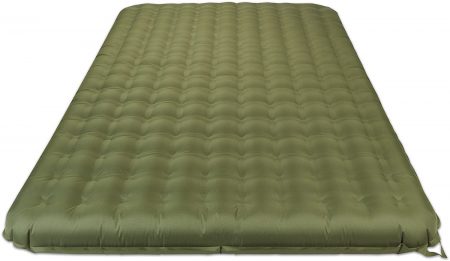 This airbed is our pick for the best thin camping air mattress for couples because of its durability, included battery-powered pump, and adjustable firmness controls.
WHAT WE LIKE
Very Durable – Thermoplastic Urethane material construction ensures durability.
Great For Two People – Patented stabilizing system for even distribution of weight
Adjustable Firmness – Adjustable mattress firmness to suit your needs
Battery Pump – Battery-powered pump allows for easy inflation
KNOW BEFORE BUYING
Pump Is Slow – Battery-powered pump is relatively slow
The Lightspeed Outdoors 2-person PVC-Free Airbed is a great, durable option for couples who enjoy camping together.
Unlike most PVC-based rivals, this Lightspeed mattress is manufactured with high-grade polyester Oxford laminated with Thermoplastic Urethane. This material prevents the typical ballooning and stretching in standard PVC-based mattresses.
Separate connectors between the top and bottom layers allow for even weight distribution, creating stability throughout the night.
This mattress packs small and weighs less than 6 pounds, ensuring that travel and storage is always a breeze, and when fully inflated, the airbed fits standard queen-size bed sheets snugly.
The Lightspeed PVC-Free Airbed features a Boston-valve design, allowing for super-quick inflation and deflation. This feature allows you to easily adjust the airbed's level of firmness to suit your comfort needs.
Built-in handles and an included carry bag promote ease of travel and storage.
3. KingCamp Comfort Self-Inflating Camping Pad with Built-In Pillow Review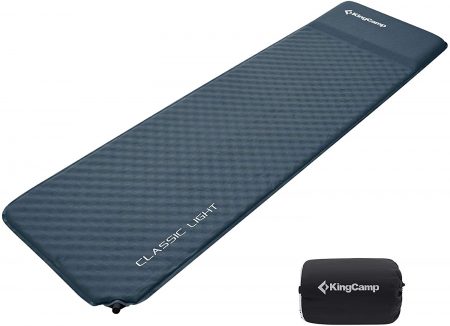 This thin camping air mattress is easy to transport, doesn't require a pump, inflates and deflates quickly, and is budget-friendly.
WHAT WE LIKE
Fast Inflation & Deflation – Brass valve design speeds up inflation and deflation
No Need For Pump – No need for an external pump thanks to the self-inflating design
Bonus Features – Includes carry bag and repair kit
KNOW BEFORE BUYING
Pillow Doesn't Self-Inflate – Built-in pillow has to be manually inflated
The KingCamp Comfort Self-Inflating Camping Pad is a popular thin-airbed with several great features, like the built-in pillow.
The self-inflating free-flow valve allows this mattress to self-inflate without requiring an additional pump. It is worth noting, however, that this automatic inflation feature doesn't extend to the built-in pillows.
The non-corrosive brass valves allow for easy inflation and deflation without any complication, allowing you to adjust comfort levels.
This mattress comes with a convenient carry bag and a handy repair kit. Additionally, two airbeds can be easily buckled together to provide a larger sleeping area, perfect for couples camping together.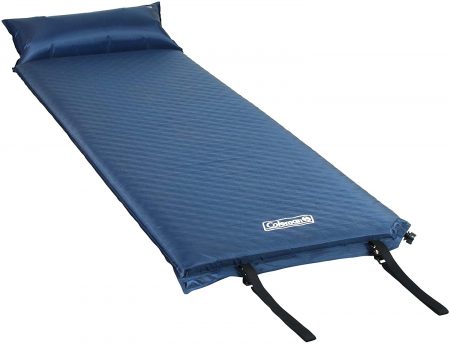 This air mattress is another durable and lightweight option that is also budget-friendly.
WHAT WE LIKE
Self-Inflating – Easy self-inflation and deflation with built-in free-flow valve
Very Lightweight – Lightweight design allows for convenient travel
Very Comfortable – Tufted-top design ensures overall comfort
Retains Warmth Well – Stays warm even when camping in the cold
KNOW BEFORE BUYING
Pillow Doesn't Self-Inflate – The pillow doesn't self-inflate with the pad
The Coleman Self-Inflating Camp Pad with Attached Pillow is our #3 top pick for thin camping air mattresses, providing outstanding comfort.
Unlike other air mattresses we have reviewed, this model requires no pump due to its self-inflating design. Just roll it out of the packaging and open the free-flow valve for the mattress to self-inflate.
Deflation is also simple and easy. Just open the valve and roll up the mattress to deflate. Built-in compression straps allow users to force out any remaining air and conveniently store the air mattress in the included carrying bag.
This mattress is extremely lightweight, weighing only 5.4 pounds when deflated and measuring 7.1 x 7.1 x 26.5 inches when fully inflated.
This airbed's shell is manufactured from ultra-durable, water-resistant nylon material, which can withstand the harshest weather conditions. The tufted top design also provides increased comfort and resistance to cold temperatures.
While this model is less of an air mattress and more of a foam sleeping pad, it still gets the job done.
WHAT WE LIKE
Very Durable – Quality 7D polyester outer shell is puncture-resistant and eliminates air leakage
2 Inches Thick – Two inches thick when fully inflated
Quick Inflation & Deflation – Strong plastic valve for quick inflation and deflation
Lifetime Guarantee – Lifetime guarantee with every purchase
KNOW BEFORE BUYING
Not Very Compact – Not the most compact option for storage
The Thick Foam Self-Inflating Sleeping Pad by TNH Outdoors offers considerable comfort and support.
With its comprehensive 75D polyester outer shell, there is no need to worry about punctures in this model.
Measuring 2 inches thick, this mattress provides insulation for overall comfort.
This mattress also features a strong plastic valve that allows the mattress to self-inflate within minutes.
Every purchase comes with a comprehensive guarantee of customer satisfaction. From refunds to replacements, TNH ensures that consumers are completely happy with this mattress.
Advantages of a Thin Air Bed
Campers, backpackers, and hikers prefer thin inflatable mattresses when traveling because of their great convenience.
No matter how small your travel bag or the space in your car, a thin air mattress can save you space.
Easy to Fold and Transport
Thin inflatable mattresses are extremely easy to fold. Even when they are fully inflated, their body dimensions are usually only a fraction of that of larger beds, and most models come with an included carry bag, making transport even easier.
Easy to Inflate
Most thin camping mattresses self-inflate, and, even if the one you pick doesn't self-inflate, most other models include a foot-stomp pump or something similar so that inflation can be done easily and without extra tools or electricity.
Affordable
Thin air mattresses are some of the most affordable models on the market. Coming in considerably smaller dimensions without losing comfort, many thin air mattresses have a smaller price tag than standard air mattresses.
Unlimited Options
Thin air mattresses come in different dimensions, shapes, and colors. Regardless of your individual preferences, you can easily select the perfect match.
The Verdict
When shopping for a thin-air mattress for camping, there is a wide range of options available, but we've narrowed down our list to our 5 favorite options available for purchase.
Our top two picks are the Lightspeed Outdoors 2-person PVC-Free Airbed and the Airlite Sleeping Pad. Both options are integrated with loads of features to give you the most luxurious sleeping experience while camping.
Trying to save a few bucks? We recommend the Coleman Self-Inflating Camp Pad with Attached Pillow or the KingCamp Comfort Self-Inflating Camping Pad.