King Koil Air Mattress with Built-in Pump Review (Twin, Queen, Cali King)
As an Amazon Associate, Air Bed Comparisons earns from qualifying purchases. We get commissions for purchases made through links in this post.
Reviews like this one provide valuable insight into how certain brands of air beds perform and meet consumer expectations. We present an unbiased view on things we know are important to you, the consumer, to help you make an informed purchase. Let's unbox this air mattress and dig into everything you need to know!
Quick Decision
The King Koil air mattress is a high-end air bed and will cost a bit more than other brands. The built-in air pump on this mattress is very impressive in how quickly it airs up and deflates. Having a higher elevated (20") air bed like this one is a benefit.
Options And Price Point
You get three size options (twin, queen, California king) to choose from in this King Koil air mattress. This mattress falls within the super-premium price range. You are getting an air bed manufactured by a company that builds its success around designed products that are highly durable while performing above and beyond a buyer's expectations!
Specifications And Warranty
Specifications
Price Point
Material
Sizes

Twin
Queen
California King

Twin
Queen
California King
Elevation Options
Warranty
King Koil backs their air mattresses with a 1-year warranty that covers any defects.
Inflation And Deflation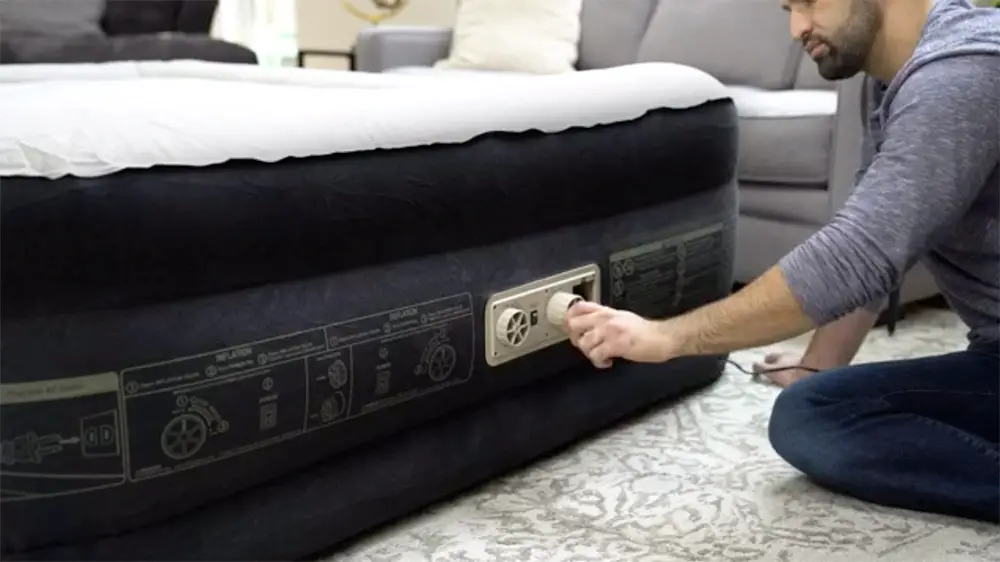 The robust built-in air pump on this air mattress fills the mattress up to capacity in just 90 seconds! Most other air mattresses with built-in air pumps can take up to 5 minutes to fill.
To inflate, plug the air pump into an electrical outlet and turn the switch on to inflate. Deflating the mattress is as easy as turning the button to "deflate," The built-in air pump reverses airflow by vacuuming out the air.
Portability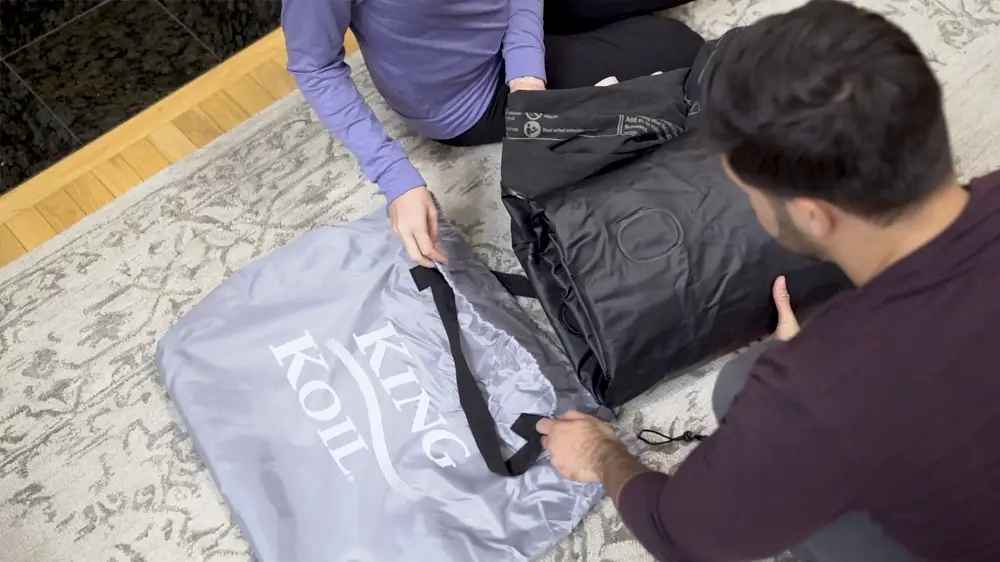 The King Koil air mattress comes with an extra-large storage bag. The twin size mattress is much more portable because of its size and weight when deflated. However, the queen and California king sizes are heavier and bulkier.
Deflated weight:
Twin – 16.09 Pounds
Queen – 17 Pounds
California King – 30 Pounds
This mattress is portable enough to take along with you in the car when you are visiting someone overnight.
Special Features
Full Flocking
This mattress is fully flocked to prevent slipping on the floor and sheets slipping off. Most air mattresses only feature flocking on the top surface, but King Koil went the extra mile and flocked the entire exterior to ensure slippage will never be a concern.
Higher Elevation From Floor Level
The King Koil air mattress is raised 20" off the floor, which provides you with easy access when getting in or out of bed.
Warranty
When you purchase a King Koil air bed, you get a 1-year warranty against any defects. Misuse of the mattress is not covered by the warranty, which includes jumping on the mattress or using it when camping. When taking this air mattress camping, you run the risk of voiding your warranty because of sharp objects on the ground that can puncture it.
High Output Built-In Air Pump
The built-in air pump on this mattress vigorously inflates it in as little as 90 seconds (twin size.) For queen and California king size, it takes up to 2 minutes. Other built-in air pumps featured in other brands take up to 5 minutes to fill.
Coil Beam Construction
The King Koil air bed is the only air mattress on the market endorsed by the International Chiropractors Association. Users are fully supported by the internal firm coil integration.
Choice Of Colors
Most air mattress brands don't give you options for choices of colors. However, King Koil does! You have a choice of either black or cream color. This is a bonus if you like to coordinate colors between your air mattress and bed linens.
Strong, Large Storage Bag
You won't get a flimsy drawstring storage bag with a King Koil air mattress. The storage bag that comes with your mattress features carrying handles, and the heavier fabric is tough and durable.
Ideal Use Cases
The King Koil air bed offers versatility in use within the home, camping, or for travel.
Home Use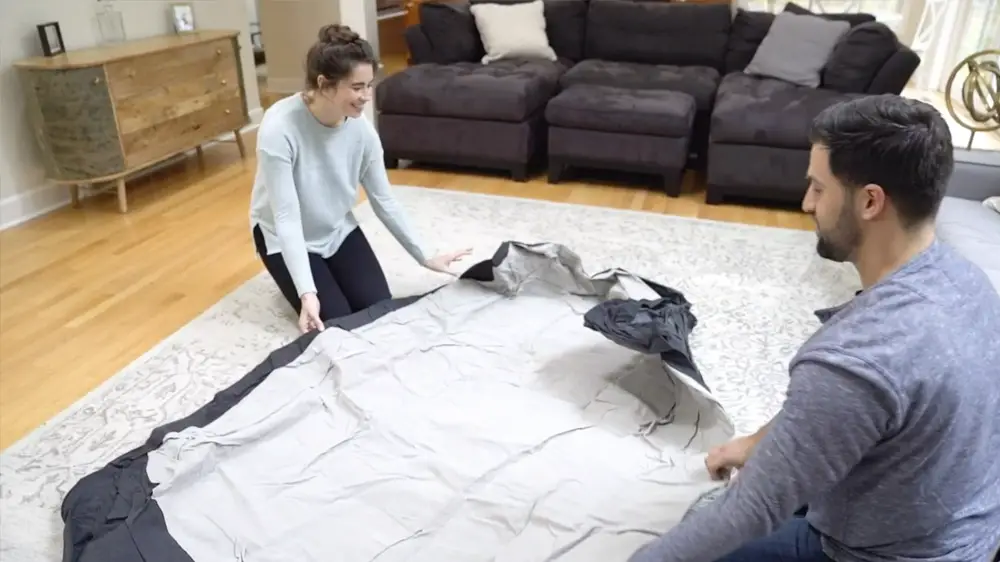 Occasional
Your overnight guests will appreciate this air mattress and the comfort it provides. Adults will enjoy the raised height that makes it feel like a traditional bed. Inflating it is a breeze with the built-in air pump. Once you are done using it, deflating is just as easy. Pop it back in the storage bag, and it's ready for your next overnighter!
Everyday
Using this mattress long-term as your primary bed is certainly an option. All air mattresses tend to lose a little bit of air, so we recommend that you routinely add air to keep it filled at capacity. Also, adding a good mattress topper will keep you warm. When using any air mattress long-term, it's essential to indulge in good bed linens and other items to create a cozy place to slumber at night.
Outdoor Use
Camping
Taking a high-end expensive air mattress camping may not be the ideal solution. The risk of it getting punctured (and voiding your warranty) is something you must keep in mind. If you choose to take it, we recommend clearing the ground where your tent will be removing all sharp objects. Tent floors are thin, so adding a tarp as an extra barrier of protection is suggested.
If you don't have access to an electric outlet in your camp, you will need a manual pump.
Backpacking
If you are a hearty backpacker and are up to carrying an added 16 pounds, the twin size air mattress and a small manual pump might be an option. However, packing on the extra weight of the queen or California king size mattresses is not ideal or recommended.
Travel
Driving
When traveling by car to overnight destinations, taking along your air mattress is undoubtedly an option. Those who host your visits may not have the extra bedroom or sofa bed to accommodate you so that air mattress comes in handy in those types of situations.
Airplane
Any air mattress is bulky and weighty to take when flying. Twin size mattresses might be feasible, but the queen and California king aren't. Airlines have weight limitations, and unfortunately, the heavier the mattress, the more it devours your allotted weight.
Things We Love
Robust Built-In Air Pump
This air pump quickly fills the mattress up and effortlessly deflates it.
Integrated Coil Beam Support
The added coil beam support and the fact that it's backed by the International Chiropractors Association are kudos for a good sleep system.
A Great Warranty
Most air mattresses have a 90-day warranty. However, you get a 1-year warranty with this mattress, which is a big plus.
Know Before Buying
Topping Off The Air During Long-Term Use
You will need to add a bit of air regularly to keep your air mattress at capacity. When temperatures begin to drop, air loss in any air mattress is a given because air condenses
The Final Verdict.
We give this air mattress a big thumbs up. The only fault we can find with it is that it does cost a bit more, but that's because it is top-of-the-line. You get our full recommendation on this product.