Are you looking for an air mattress for overnight guests but unsure what to get? There are a lot of different air mattresses on the market out there.
Most of us go to our local brick-and-mortar store and grab the most convenient, accessible mattress off the shelf. Little do we know that all air beds are not the same.
We will unbox and look at the Sable full/queen raised air mattress HF033 and give you some tips on things to look for in an air mattress.
Quick Decision
The Sable Raised Air Mattress HF033 is an affordable solution for short-term use for overnight guests
. It's also great for camping trips where you have access to electricity to air it up—having the built-in pump, cradling design, and higher capacity for weight packs in many options for budgets under $100.
Options & Price Point
This air mattress comes in full or queen sizes with an elevated height of 17″.
The full-size option is about $10 less than the queen-size. The Sable brand is one of the high-end brands of air beds.
When comparing this mattress with other comparable high-end air mattress brands, you get many features and options but at a much lower price.
Specifications & Warranty
It's worth noting that each configuration is not always available at any given time, and the pricing is different for each.
Specifications
Price Point
Material

Heavy-duty PVC
Velvety flocking on the sleeping surface

Sizes
Full
Queen
Elevation Options
Warranty
When purchasing this air mattress on Amazon, you can return it within a 30-day window. However, Sable products come backed with a 3-month warranty for manufacturing defects. The warranty does not cover the mattress for issues resulting from misuse.
Inflation & Deflation
The Sable HF033 Air Mattress features a built-in air pump that quickly inflates to capacity within minutes.
A universal air valve on the mattress allows for the hookup of a manual or battery-operated air pump when electricity isn't available.
Inflating this mattress is as simple as plugging the pump in and turning the pump on. The full-size mattress takes about 3-4 minutes to inflate fully, whereas a queen size takes up to 5 minutes for inflation.
Deflating the air mattress is a breeze with the built-in air pump. Moving the switch to "deflate" reverses the airflow by withdrawing air internally outwards like a vacuum.
This feature is a big bonus to have in any air mattress. Trying to manually get the air out of an inflated mattress can be challenging.
Portability
The Sable HF033 air mattress can easily be transported on camping trips, carried along when visiting people overnight, or for easy storage.
The overall weight of the mattress is about 20 lbs (deflated.) Having the storage bag makes it conveniently easy to carry and offers a barrier of protection during transport or storage.
Special Features
This air mattress boasts a number of features that make it one of the higher-end brands and models of air beds on the market. With this specific model, You get a lot of "bang" for your buck!
Built-In Air Pump
The integrated built-in air pump provides you an effortless means of airing up your air mattress. All you have to do is plug it in and turn it on to "inflate."
Your bed is inflated and ready for use within three to five minutes. Once you are done using the air bed, switch the button to "deflate," and the built-in pump removes the internal air bringing the mattress down to full deflation for storage!
Integrated Raised Pillows
Sable went an extra step by integrating raised pillows at the head of the mattress. Not everyone may be a fan of this feature; it offers an extra elevated area to keep your traditional pillows from slipping off the bed.
Some may find that the additional elevation and the use of conventional pillows can be uncomfortable. Keep this in mind when considering your purchase of this air mattress.
Internal and Raised Side Air Channel Support
This mattress has an internal I-Beam support system that features air channels that enable the mattress to adjust to body positions for added comfort.
You gain a better night's sleep, and your full body has the extra added support that most air beds don't have.
The raised side channels on both sides of the mattress cradle you and prevent you from slipping off the mattress. This feature is important to have in an air bed.
Velvety Flocking For Added Comfort
Sable went a step further by adding a thick layer (0.6mm) of plush flocking on the mattress to provide a barrier that adds warmth.
The flocking also acts as a grip to prevent bed linens from slipping off.
Heavy-Duty Weight Capacity
Finding an air mattress that can accommodate heavier weights with a built-in air pump, raised mattress height, and overall durability is rugged.
Sable considered these things by designing this air mattress. The total weight capacity of 661 lbs. accommodates adults up to 330 lbs each.
Heat-Welded Seams
Some air beds on the market are glued together at the seams, whereas the higher-end, more durable ones are heat-welded.
Heat welding merely melts the two sides of the air mattress seams together, creating a seamless design that can withstand heavier weights.
Air loss is unlikely in heat-welded seams, provided no one jumps on the mattress or misuses it.
Ideal Uses
Air mattresses are not limited to use within the home.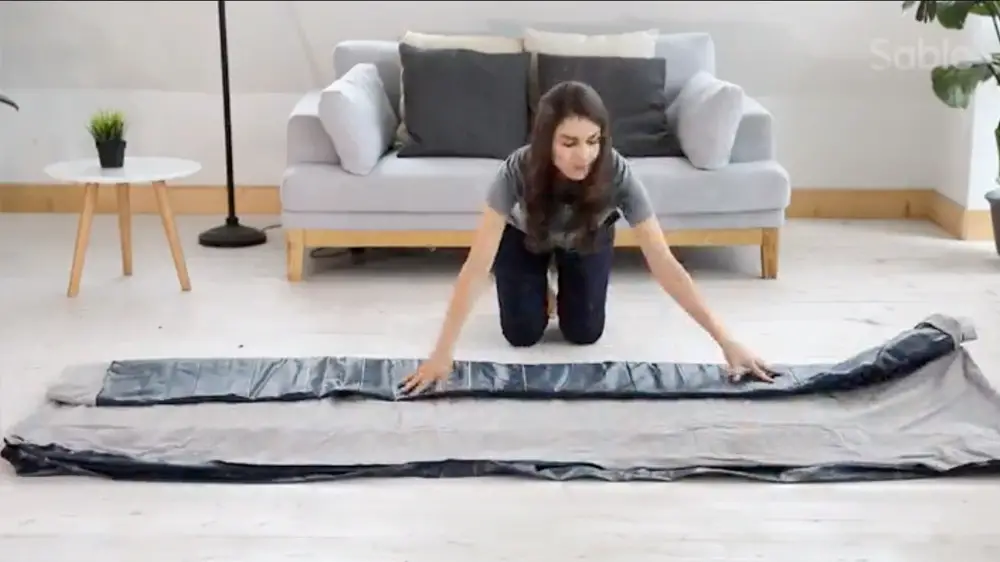 Home Use
Occasional Home Use
When you have overnight guests or host a kid's sleepover, this air mattress is ideal for pulling out of storage and setting up quickly. Deflating and placing back into storage after use is done in minutes!
Everyday Home Use
Using the Sable HF033 air mattress long-term in your home is feasible. It will serve you well if you take care of it and add a little air now and then to maintain constant capacity.
We highly recommend investing in plush bed linens for long-term use to keep you warm and comfortable. Air beds tend to be cold because they lay directly on the floor.
Outdoor Use
Camping
Yes, this air mattress can be used when camping only if you can access electricity or a manual air pump.
There are added risks of puncturing the mattress in camping because of rocks, twigs, and other sharp objects on the ground. Tent floors or tarps may not provide ample protection against potential punctures.
Backpacking
We can say without a doubt; this air bed is not recommended for backpacking because of its weight and size. Although it can easily be carried in a storage bag, adding to a backpacking venture will be cumbersome.
Travel
When visiting other people, you can take this air mattress with you on car trips.
We don't recommend packing it in your luggage when flying because of its weight and bulkiness. Airlines have baggage limitations on weight; unfortunately, this air mattress would consume half of your allotted weight allowance.
Things We Love
Affordability
You get quite a bit for your money with this air mattress. Durability, comfort, and a built-in pump are all included with the purchase!
Extra Features
We are impressed with the added raised pillow integration, the 17″ raised height, and the cradling comfort of the internal and side air channeling.
The heavier weight capacity and heat-welded seams provide a durable air bed.
Built-In Pump
A built-in air pump is a big bonus in an air mattress. Who wants to fiddle with the hassle of airing a bed up with a separate pump?
Good Overall Craftsmanship
Sable is a well-trusted company with reputable, top-rated products. You can rest easy at night knowing you won't wake up to a deflated bed!
Know Before Buying
Integrated Raised Pillows May Not Be For You
If you are like most of us, your traditional pillow is something you need to sleep at night.
This air mattress has raised pillows that you may find uncomfortable using your traditional pillows. The extra added elevation may not be suitable for everyone.
Additional Air Will Be Needed For Long-Term Use
All air mattresses lose a little bit of air over time. Air becomes condensed in cold environments, whereas warmer environments cause the air to expand.
You will need to add a little bit of air routinely if your mattress is placed directly on the floor since the floor-level temperatures are cooler.
The Final Verdict
When shopping for an air mattress, please consider the little things mentioned above.
A budget of $100 or less for a good air mattress is quickly met with this one. You will get your money's worth with this mattress!