Nobody desires to sleep in a tent so hot that you sweat overnight. However, in as much as everyone loves to keep cool, there are times when temperatures become extremely low for comfort.
Sleeping in a campsite during the winter or early spring season and other colder times can be quite challenging. This is due to the extremely low temperatures that occur especially during the night.
Keeping your tent warm successfully during those times of the year can be the difference between a rough and great night. A promising night could easily become a nightmare if you fail to get adequate protection from the cold.
You may ask yourself why anyone would want to camp in the cold. Well, camping is a great way to de-stress and renew your love affair with nature. For most of us, resisting the urge to go camping can be quite difficult.
Besides, the spring season seems to bring out the best in fauna and flora in their natural habitats. Regardless of the sometimes low temperatures, it remains one of the best times of the year to go camping.
Keeping your tent as warm as possible during extremely cold nights can be lifesaving when you go camping. Different people utilize different methods to stay warm during those times. Here are 10 of the very best practices
#1. The Quality of Your Tent
Getting a quality tent is one of the keys to staying warm while sleeping outdoors when temperatures take a nosedive at night. The material quality can be the difference between waking up warm and freezing.
You'd want a tent manufactured from a material that insulates against the cold.
Every camping tent on the market today comes with some form of vent. While the temptation to shut them may seem irresistible in the cold, it is recommended that you at least keep them partially open.
#2. Sleeping Bag
A great sleeping bag is a must-have if you want to keep the temperatures in your tent warm during camping. Sleeping bags on the market come with specific temperature ratings, which can be a great guide.
To get optimum warmth, buy a sleeping bag rated 20 degrees Fahrenheit colder than your camping temperature. This means you should purchase separate sleeping bags for camping in the summer and colder times of the year.
A sleeping bag liner could also be a smart purchase to stay warm even during low-temperature camping. When it gets dirty, all you have to do is to remove the liner and dry clean it instead of the whole sleeping bag.
Sometimes, temperatures are so cold that a regular liner doesn't get the job done. The good news is that heated sleeping bag liners are available to give you even more warmth.
However, If you are still struggling to stay warm, then it is time to get creative. Wrapping the whole sleeping bag with a thick blanket could do the trick for you to sleep comfortably.
#3. Sleeping Pads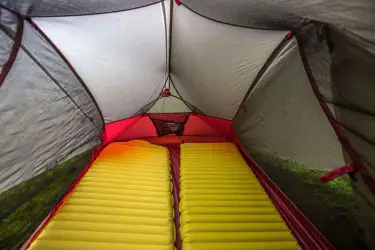 One sad fact about camping air mattresses is that most of them get filled with cold air quickly. The problem occurs even in top-of-the-range models. This can be a huge drawback when you are scrambling to stay warm during plummeting temperatures.
Sleeping pads are designed to offer better insulation when compared to inflatable mattresses. Placing a sleeping pad on top of your airbed offers excellent protection for your body against the cold.
Fortunately, sleeping pads are quite inexpensive, and you could snap up one online or in your neighborhood's departmental store. Just make sure you verify the insulation properties of the model you opt for.
#4. Layer Your Clothing
Wearing multiple layers of clothing is one of the easiest ways to stay warm while camping in the cold. Remember, it will be impossible to stay warm unless your body is completely dry.
Wearing clothes manufactured from wool, silk, or other synthetic materials offers a great base to prevent the body from feeling too cold. These materials are noted for removing as much moisture from your body as possible so you can stay warm and dry.
Clothes made from cotton and similar materials should be completely avoided if you want optimum warmth in your tent. The truth is, cotton delivers absolutely no form of insulation against the cold.
Besides that, cotton is an effective conductor and makes you feel colder.
#5. Wear Hats, Gloves, and Socks
If you want to stay completely warm, you should know that every little area of your body counts. Your feet, hands, and head are some of the most susceptible areas of your body during cold weather.
This is why taking accessories such as hats, gloves, and extra socks is important. If you have a sleeping bag with a hood, don't ignore it because it can be handy in the battle against the cold.
Make sure you wear fresh wool socks just before you go to bed. Sometimes, you may even have to wear multiple pairs of socks to give your feet optimum insulation against the cold.
#6. Drink Hot Tea
Drinking a hot beverage is one of the most underrated techniques for staying warm during colder nights. This may sound like a no-brainer, but you will be amazed at how many campers forget to do this.
If you are feeling hungry,, you should eat some hot food before you hit your bed. Remember, hot tea spikes the body's rate of metabolism and helps keep you warm throughout the night.
#7. Get a Heater for Your Tent
Bringing a heater into your sleeping tent is another tried and tested technique for staying warm while camping in the cold. These catalytic heaters come in various models and are available at an affordable price.
We recommend switching off the heating at some point in the night so your tent doesn't become overly hot.
#8. Go to Bed Warm
A few pushups or jumping jacks just before going to bed can give the body the necessary baseline to stay warm even during colder temperatures.
Remember, any physical activity can spike up the body's heart rate, which can effectively fight against cold weather.
#9. Avoid Drinking Too Many Fluids
Drinking too much water will require multiple bathroom visits, which can defeat the quest to stay warm in your tent.
By all means, stay hydrated throughout the day but keep your liquid intake in check.
#10. Have a Big Dinner
Eating a big dinner laden with lots of calories can also do the trick to staying warm while camping during colder times of the year.
Calories give the body lots of heat which set up the body to feel warm during chilly weather camping.
The Verdict
Keeping your tent warm while camping in the cold is not rocket science. However, it would help if you were smart and forward-thinking to come out unscathed.
The good news is that we have outlined some of the best techniques that can make your camping trip as successful as possible above.
If you don't want a bad experience, applying some of the tips above is important to stay comfortable.
You will be stunned at the comfort level you will feel throughout the night despite the unforgiving atmospheric temperature. We wish you happy camping!