Air Mattress Dimensions (Sizing for Twin, Double, Queen, King)
As an Amazon Associate, Air Bed Comparisons earns from qualifying purchases. We get commissions for purchases made through links in this post.
With air mattresses, it can often feel like you're channeling Goldilocks in your decision making process. It has to feel just right, because if it's too big or too small, you might have trouble fitting the mattress where it needs to go.
Unfortunately, unlike with regular mattresses, there's a little more inconsistency with air mattress' dimensions. It often ranges by brand. In this guide, we'll be going over what is the closest to a "standard" expectation for sizing and who may be best suited for each size.
Twin Air Mattress Dimensions
A twin sized air mattress is typically 75 inches long by 38 inches wide.
This is often the perfect sized air mattress for a camping trip. Tent sizes are usually compact, so being able to squeeze an air mattress or two inside the main chamber can be quite a task. Twins typically run from 7-25 inches tall depending on the mattress' brand.
A twin-sized air mattress is perfect for single sleepers, or for tents that need two separate mattresses in one chamber. Twin mattress are also good for kids but, if you're getting a bed for a very young kid you might want to check out our guide for air mattresses for kids and toddlers.
The twin-sized air mattress is also ideal for other on-the-go activities and spaces like RV's.
Twin-sized air mattresses can accommodate up to 300 pounds.
Twin XL Air Mattress Dimensions
A twin XL air mattress is typically 80 inches long by 38 inches wide.
For larger people looking for a slight upgrade, the twin XL might be your best friend. Like most air mattresses, they run from 7-25 inches tall depending on if you get a raised air mattress or a shorter one.
As you can see, this 5-inch difference in length can make all the difference. If you're even a hint too tall for a twin mattress, this additional bit of room helps add comfortability. One of the most challenging aspects of sleeping outdoors is the need for comfort. Sometimes, that has to be sacrificed, but small upgrades can be made occasionally.
When accommodating one person, this size can carry up to about 300 pounds.
Full/Double Air Mattress Dimensions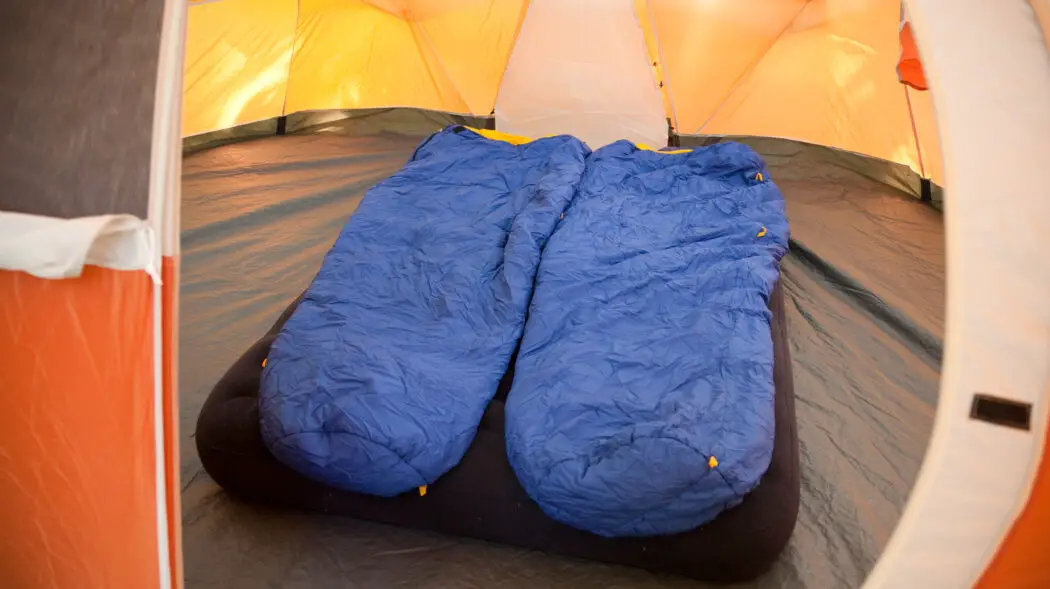 Full sized air mattresses are 74 inches long by 54 inches wide.
While the twin XL gave more room in its length, the full/double helps out in its width. These air mattresses are not so big that they are no longer portable, but they offer room that you may need if you're traveling or accommodating multiple people. When it is safe again to have company, I like to offer this size to house guests when there are no more beds available.
The average amount of weight for a full sized air mattress is about 450 pounds.
Queen Air Mattress Dimensions
A queen sized air mattress will run 80 inches long by 60 inches wide.
This is where things start to get far less portable. I don't know many seriously outdoorsy folks who would pick a queen sized air mattress for their camping trips. But, that doesn't make it impossible, and I do know people who have very large tents. Since this mattress is much larger it's important to properly assess your needs and space before picking one.
These might be better suited for a guest room than a camping tent. However, if you're a traveling couple or your tent is bigger than average, the next few sizes are worth your consideration.
Queen air mattresses can hold about 550 pounds. 
King Air Mattress Dimensions
King air mattresses run at about 80 inches long by 76 inches wide.
Now, we're starting to get into more luxurious territory. While an air mattress this big is a bit more difficult to accommodate, you're definitely in for a comfortable experience. The larger sizes begin to feel more like a regular mattress than the smaller ones, due to the additional width that they offer. This does make them a bit more niche in nature, and therefore a little bit harder to find. Most online retailers help us out with that problem, though.
King air mattresses can hold up to approximately 600 pounds.
California King Air Mattress Dimensions
King sized air mattresses run at about 84 inches long by 72 inches wide.
If you've ever heard of the term "glamping," the California King air mattress could come to mind. While it lacks practicality for outdoor activities and portability, it offers unmatched comfort that's only comparable to a standard mattress. In fact, some California king air mattresses are designed to mimic standard mattresses to the point where you can hardly tell the difference.
This size is ideal for those who are looking to spread out a bit. A California king's length is perfect for taller people who struggle to keep their legs from dangling off of the end of most mattresses. However, it is even more of a niche find than the standard king air mattress.
The supply and demand for a California king is so specialized that many of the retailers you're thinking of checking will likely be sold out of your top picks. Therefore, it is recommended to make a purchase as soon as possible when you find one that suits your needs.
California king air mattresses can hold up to approximately 650 pounds. 
FAQ:
What size air mattress is best for a truck bed?
Generally, this is going to depend on the type of truck that you have. But, with that being said, if you have a short bed, you'll want an air mattress that is about 72 inches long by 55 inches wide. If you have a full size bed, you'll want a truck bed air mattress that's about 76 inches long by 63 inches wide.
Are air mattress dimensions the same as regular mattress dimensions?
Yes, in theory. Of course, considering they expand and deflate, there's going to be a bit of variation. The sizing you'll find in this article should give a good guide but please do check the product listing to make sure the sizing is what you're expecting.
In Summary
Air mattresses are a wonderful way to substitute a standard mattress in a guest bedroom or to use in outdoor travels.
Understanding their measurements can help you make the right decisions for your needs. Whether you're a single traveler or you're looking for luxury, there are options for you!