You're ready to hit the road and spend a few nights roughing it. The only thing missing is getting the best night's sleep in your car, SUV, or truck bed.
I feel you; sleeping in a car seat is downright torturous and not the way to go!
Let's turn your car space into a super comfy space with one of the best air mattresses for car, SUV, and truck bed camping. Truck bed camping is real; if you haven't tried it, you're missing out on some great fun!
Let's dive into this review and get you all the details you need to make the most out of your next car camping expedition.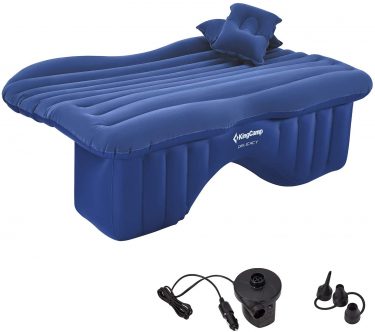 This car air mattress is our top recommendation in the category. The sizing is great, fitting almost every car out there. It holds air very well and is easy to inflate and deflate with the included accessories.
WHAT WE LIKE
Sizing After Inflated Is Ideal – It's compatible with 99.9% of car back seat models and has a weight capacity of 485 lbs. (220 KG)
Quick Inflation And Deflation – Inflate and adjust the firmness to your favorite preference within minutes.
Easy Anti-Slip Material – This keeps the air mattress in place while you're sleeping on it, plus it is coated with a skin-friendly flocked surface for comfort throughout the night
Color Choices To Match Vehicle Color Scheme – Comes in three colors: blue, coffee, and green.
Accessories Included – Electric pump, 3-in-1-nozzle, Oxford carry bag, and 2 pillows.
KNOW BEFORE BUYING
It may not be suitable for trucks; check sizing to make sure it will fit in the backseat of your truck
The side toward the front seat of your car may have a tendency to go down a bit, depending on the space you have between your front and back seats.
This is one of the best car mattresses on the market (and comes with two pillows) for the perfect night's sleep in your car or SUV.
It works great for long car rides or road trips and offers extreme comfort right in your backseat. It's perfect for traveling with kids or pets, or for that solo road trip you've been dying to take!
The KingCamp Universal Car SUV Inflatable Back Seat Mattress with air pump is super easy to inflate; within a few minutes, you are ready for bed, and the cleanup is even easier – wipe it down with a damp cloth. The sizing is perfect for storing the car mattress when not in use.
Size: 55.5 x 35.4 x 17.7 Inches
Packed (Storage) Size: 15.4 x 12.6 x 4.7 Inches
Weight: 2.2 KG (4.85 lbs.)
Waterproof: Yes
Carry Bag Included: Yes
Warranty: Not Mentioned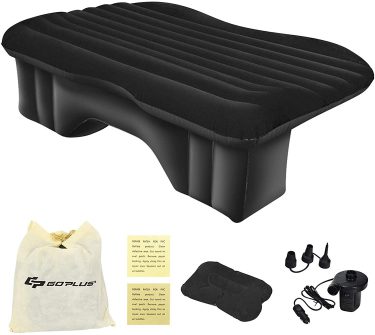 This is another excellent choice for an air mattress for your car. It's not that different than the KingCamp so, if this one happens to be cheaper whenever you look at it, it's a very reasonable alternative.
WHAT WE LIKE
Fast Inflation And Deflation – Plug the pump into the car's lighter socket and pump air using the nozzles included
Durable & Waterproof PVC Material – The strong, durable material used is skin-friendly and gives a comfortable feel while sleeping with the soft flocking surface. If you or somebody else spills a drink, no worries with the waterproof option making it super easy to clean up any air mattress messes
It can Be Used As A Resting Seat Or Bed – You can easily set this up outside to enjoy by the lake or a cozy fire before heading off to sleep in your car.
Double Valves – This helps prevent any air leakage
Wide Range Of Suitable Vehicles – Suitable for five seats or more, from small cars to MPVs. (Compatible with a range of different types of vehicles and easily mounted)
Accessories Included – Electric pump, Nozzle Set, Pillow
KNOW BEFORE BUYING
The storage size or weight is not mentioned on the packaging
It might be too big for some small car models
The plastic smell is strong for first-time use
When Goplus designed this car air mattress, they didn't leave out any details – including the curved design that fits most vehicles' centrally located handrail box.
It features a rapid setup and deflation process and the ability to control the firmness to suit your desired car mattress thickness.
There are also a lot of other benefits with the Goplus Inflatable Car Air Mattress, such as the waterproof design, non-slip bottom, super soft material for sleeping or sitting, and the durable PVC! This can be used both indoors and outdoors.
Size: 56 x 36 x 19 Inches
Packed (Storage) Size: Not Mentioned
Weight: Not Mentioned
Waterproof: Yes
Carry Bag Included: No
Warranty: Not Mentioned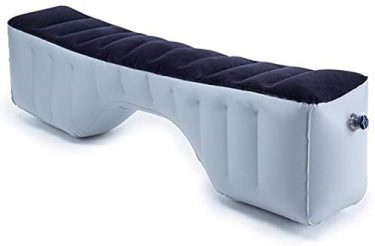 Some people want to fill the gap between their back and front seats. This makes your back seat a bit larger of sleeping space. If that's what you want to do, this is the best product to give it a shot.
WHAT WE LIKE
Comfort And Durable – Quickly transforms your backseat into the feel of luxury with its sleek black flocked material that is soft and smooth.
Perfect Size For Storage – This is easily stored in your vehicle when not used, weighing around just one pound.
Double Seal Plug Design – This is great for preventing air leakage
Compatible With A Lot Of Car Models – This can easily be used in many different vehicles with a standard back seating option
Super Bearing Load Capacity – Maximum overall load-bearing capacity
Fast Conversion – Perfect for converting your backseat into a camping-type bed
KNOW BEFORE BUYING
Pump Sold Separately – But for the low price, that was expected! The pump can be purchased separately at a low price, or you can always use an air compressor.
May need to add air more often than other brands
No accessories included
This back seat gap design for an air mattress is brilliant and can be handy when an unplanned road trip pops up!
Surprisingly it is well-made from quality materials, and it's a cheap and affordable way to convert your existing car backseat into a bed for the night. Simple to use and gets the job done!
If you already have luxury-type seating in your car that is easily transformed into a comfy sleeping space with a nice blanket or sleeping bag, and you only need that leg space filled with giving you more room and comfort – then this bad boy is your ticket!
This is also perfect for traveling with kids or pets, making their space extra comfy.
This is the best car gap filler air mattress and can be used both indoors and outdoors.
Size: 51.18 x 10.63 x 12.99 Inches
Packed (Storage) Size: Not Mentioned
Weight: 0.5 KG
Waterproof: No
Carry Bag Included: No
Warranty: Not Mentioned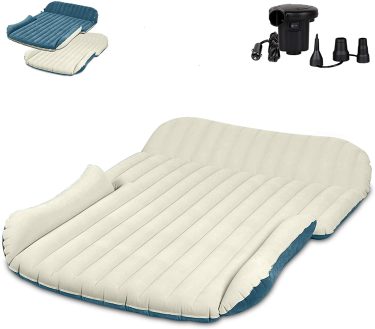 This is a really well-reviewed SUV air mattress and is an excellent choice for both single sleepers and couples.
WHAT WE LIKE
Comfort & Weight Capacity – Talk about impressive; this bad boy will accommodate up to 500 lbs. without sacrificing any of the comforts; that's 2 to 3 adults!
Thickened And Double-Sided Flocking – Gives the feel of an actual bed in your vehicle.
Seamless Design – The new and upgraded design gives more comfort without the feel of the seam down the front
Environmentally Safe – Non-toxic materials have produced this quality air mattress.
Flexibility – This can be used both indoors and outdoors, can be handy for unexpected guests, and is cold-resistant up to 25 degrees
Accessories Included – Electric car pump, repair kit, carry bag, and instruction manual.
Multiple Inflation Modes – Easily can be used for different size spaces without sacrificing comfort with 4 separate segments for inflation.
KNOW BEFORE BUYING
Takes longer to inflate due to the different chambers
Mattress valves can be faulty
Material is thinner than other brands in the same category
If you are traveling in some cold temperatures, then you will want to give this quality air mattress by WEY & FLY a chance to keep you warm on brisk nights.
The double-sided can withstand harsh temperatures with its environmentally-friendly materials that are flocked and cold-resistant on both sides.
I found it cool that you could use this in multiple sizes depending on the space you have and how many people are sleeping on it.
It can be used as a single bed or double and has comfy pillows to give the feel of a real bed. This is easily inflated with the pump via your cigarette lighter socket and can be used indoors and outdoors, making it the best SUV air mattress.
Size: 76 x 51 x 4.7 Inches
Packed (Storage) Size: 15.27 x 9.96 x 6.1 Inches
Weight: 8.1 lbs.
Waterproof: Not Mentioned
Carry Bag Included: Yes
Warranty – Yes, 1-Year Warranty & Lifetime Support Provided By WEY & FLY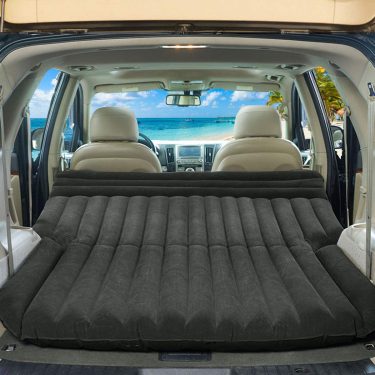 This is another really good option for placing an air bed in the back of your SUV. The various compartments make fitting this in most SUVs really simple.
WHAT WE LIKE
Double Sealed Valves – Gives added protection and prevent possible leakage
5 Separate Chambers – Gives a variety of sizes and uses; only blow up what you need and or can fit in your vehicle space
Choose Your Firmness – You can easily adjust the firmness of the air mattress to your preference
Universal – Can be used both indoors and outdoors, as well as in your home for extra sleeping accommodations
Accessories Included – Electric pump, nozzle set, repair patches, and storage bag
Weight Capacity – A whopping 660 lbs., an entire family could sleep on this one
KNOW BEFORE BUYING
It can be too big for narrow cargo areas, be sure to check your sizes
If you're getting ready to take a camping trip or heading to the beach for the weekend and need a comfortable place to sleep, look no further – this SUV air mattress from Goplus is perfect for the entire family, furry friends included! It comes with a comfortable flocking surface that is skin-friendly and durable.
This is ideal for use in your SUV cargo area and can accommodate up to 660 lbs. The installation is fast, as well as the deflation, plus it is easy to store while not in use with the handy storage bag that is included.
Size: 74.5 x 50.5 x 4.5 Inches
Packed (Storage) Size: Not Mentioned
Weight: Not Mentioned
Waterproof: Yes
Carry Bag Included: Yes
Warranty – Not Mentioned
AirBedz is a really well-respected brand, and this product doesn't disappoint. This is a really comfortable bed, coming in multiple sizes, and will keep its air. We highly recommend this one.
WHAT WE LIKE
Mattress Thickness – 12 Inches thick is even thicker than some people's mattresses at home!
Easy To Inflate – Quickly fills up with air within minutes, and air pump comes with a 16 ft. cord for easy reach to your auxiliary power port or plug.
Sizing Options – You can choose the short-size or full-size bed to fit your vehicle correctly.
Industrial Grade High-Quality PVC – Built to last and extremely durable with high-quality materials that help resist any punctures or rips
Comfort Coil System – This allows your weight to be evenly distributed so you don't feel like you sinking
Accessories – Portable DC air pump, patch kit, and storage bag
KNOW BEFORE BUYING
Does not fit 5 Ft beds
Weighs more than other brands
When considering an air mattress for your truck bed, don't underestimate the best one designed with comfort in mind from AirBedz!
When they designed this air mattress, they thought of everything, including the cut-out around the wheel wells to maximize your comfort, space, and the fully inflated mattress's thickness as the icing on the cake.
There are a lot of air mattresses out there claiming to fit in the bed of your truck, but I can tell you that they are all not made the same, and AirBedz is the leader when it comes to comfort.
They offer two sizes that can fit perfectly into your truck bed, so look at all your options.
This air mattress utilizes the entire space and has enough room for 2 to 3 people to sleep comfortably. Even if you're not going camping overnight, it's awesome for going to the drive-in! If you want to transform your camping experience, then this is the perfect solution for all your comfortable truck-bed camping needs.
Size: 72 x 55 x 12 Inches (Short Size Bed Inflated)
Size: 76 x 63 x 12 Inches (Full-Size Bed Inflated)
Packed (Storage) Size: Not Mentioned
Weight: 15 lbs.
Waterproof: Yes
Carry Bag Included: Yes
Warranty – Yes, 1-Year Warranty
Types Of Vehicle Camping Air Mattresses
Car Air Bed
These are the most convenient option for car camping and can easily be inflated, deflated, and stored without any issues. Depending on the size, they normally can accommodate most car models, including SUVs.
These types of air mattresses usually cover the entire back seat, two feet that fit nicely behind the front seats, and should contour around the middle console for a snug fit.
They are generally constructed of high-quality PVC and can be reasonably lightweight.
They are the perfect solution for traveling with children and pets on long car rides or overnight camping in your car.
SUV Air Mattresses
These are very similar to car air mattresses and are often offered in bigger sizes, including ones that will fit your cargo area, transforming your space into a nice sleeping arrangement.
They can be used lying flat, offering more leg space while covering the folded-down seats.
An SUV air mattress is generally made from high-quality, ultra-durable materials, including skin-friendly flocked surfaces like the KingCamp Universal Car SUV Inflatable Back Seat Mattress With Air Pump.
Truck Bed Air Mattresses
Truck bed air mattresses can be designed to use all the space in your truck bed, including cover the wheel covers like the AirBedz Truck Bed Air Mattress, or they can be used as a space saver and give you more storage space for your items like the Rightline Gear Truck Bed Air Mattresses.
Most truck bed air mattresses are made of durable, high-quality materials that withstand harsh elements since they are exposed to open air and all weather conditions.
Some tents can be purchased separately to cover your truck bed while sleeping.
But I must admit, nothing is more incredible than sleeping under the stars in the back of your truck!
Advantages of a Vehicle Air Mattress
Sleeping in your vehicle is many advantages over a traditional tent. Let's take a look at a few of those.
Easy to Setup
Setting up a tent can be very cumbersome and frustrating for many people. This reason alone can make camping a huge turn-off for lots of people.
There are so many would-be campers who frankly stay at home just because they are in no mood to set up tents.
Transporting parts of your tent to the campsite can be a very cumbersome process that nobody loves.
There are so many parts that you could easily leave at home. They are also quite heavy to carry and could require multiple trips from your campsite to your car.
Tents become even more of a problem when you find yourself camping alone. With many designed to be set up by at least two people, how do you find a third party to help when camping solo in the middle of nowhere?
Fortunately, SUV airbeds eliminate the need to set up camping tents. They are easy to configure in your car and do not require additional hands.
How cool is that?
Cars Are More Comfortable
The level of comfort you get from setting up your car mattress and sleeping in your car or SUV beats anything available when camping in the woods.
During colder periods when temperatures nosedive at night, sleeping in your car can be a good way to stay warm.
If you have ever gone winter camping, you'd want all the warmth of spending the night in an SUV.
How to Find the Best Car, SUV & Truck Bed Inflatable Mattress
There are two options for you when looking for an inflatable mattress to put in your vehicle.
Option 1 is to choose any inflatable mattress you like that fits the back seat area of your vehicle.
The second, more thoughtful option is a specialized car, truck, or SUV air mattress. These are airbeds specifically designed for sleeping in your vehicle.
They are more likely to fit in the back of your car and give you more comfort than generic models.
Construction Materials
The type of material used to manufacture your SUV inflatable mattress is extremely important. While hundreds of these are in the market, we have noticed that the top-quality ones are made from heavy-duty rubber, nylon, and high-quality PVC.
What makes these materials stand out is their quality composition, ensuring enough strength for outdoor use.
Punctures should be your number one enemy while out there camping, and the good news is that these materials are resistant to it.
They also come with waterproof sound qualities and minimize air loss from your mattress. Such features guarantee you don't wake up on a flatbed in the morning.
In recent times, Thermoplastic Polyurethane (TPU) is becoming popular in the construction of vehicle air mattresses. This material is not as heavy as PVC and comes with the advantage of containing no phthalates.
A top cover is necessary to get the best sleeping experience from any of these air mattresses. Most of the materials stated above tend to have some slippery properties, so keep that in mind.
For the best experience, you should choose an inflatable mattress with a flocked top or memory foam top material. While these are ultra-durable, we'd still recommend bringing a repair or patch kit.
Once you get the construction material spot-on, the built-in features are next to look out for.
Inflation and Deflation
An SUV air mattress is all about convenience and getting the best sleeping experience. We presume that you don't have time to waste, just like everyone else. This is why you must choose a model that is easy to inflate.
It should take 2-3 minutes to inflate it fully to your desired degree of firmness. Period!
Deflation for storage should even be quicker.
Built-In Pump
We love blow-up beds with internal pumps, thanks to all the convenience they bring to the party. While you may not have an electrical outlet to plug in, they are usually designed to be compatible with 12V car pumps.
If you think you are going to blow one of these up with a bicycle pump easily, you've got another thing coming.
You should always choose models that save you a lot of headaches down the line. Ideally, you will want to connect a 12V pump to your car to blow air in and out.
If you don't have a car pump, a manual-operated one could do the trick too. It will just require a little more hard work. Just make sure you find one compatible with your mattress, and you are good to go.
Plush Top Mattresses
Would you like to sleep on a mattress that makes squeaking noises every time you turn? Or you'd prefer a model featuring a super comfortable plush top that gives you a great night's sleep?
This is a no-brainer. Please choose a unit finished with luxurious top material for absolute comfort while enjoying what nature has to offer.
Inflatable Air Chambers
It is important to opt for a mattress that comes with a large number of inflatable air chambers. These models tend to offer the highest levels of luxury and weight support.
The good news is that manufacturers openly state the number of air chambers so your search shouldn't be impossible.
Size
Size is extremely important during your search for inflatable SUV mattresses. There's no point ordering the best car air bed in the world if it is too large to fit into your car. Verify in advance the dimensions when fully blown up so you don't end up making a mistake.
Transportation and Storage
An inflatable air mattress for car camping will be packed up and moved around a lot. It is always a great idea to choose one that is easy to transport and store.
Air Leakage
Choosing an air mattress that leaks air could be your worst nightmare. Make sure any model of car bed you choose can hold air for considerable periods.
Warranty and Returns Policy
There are times when things go wrong, especially during manufacturing. Choosing a car bed with zero warranty and No Returns Policy is a big no-no. What happens if you end up with a defective product?
FAQ
Does an SUV air mattress fit in cars?
This will depend on the make and model of your car, some SUV air mattresses can fit nicely in some car models. However, I recommend checking the sizing before purchasing an SUV air mattress for your car.
There are a lot of quality car air mattresses that you could use both for both SUVs and car travel. For example, my top choice above, the KingCamp Universal Car SUV Inflatable Back Seat Mattress With Air Pump, is perfect for both cars and SUVs.
How many watts do you need for a power inverter to blow up air mattresses using a car?
The norm is a standard 12 V which most vehicles come equipped with, but just to be certain – check with the manufacturer of the brand you purchased to make sure you have sufficient power to use your air pump while out camping.
You can often find this information with the manufacturer's instructions that were included with your air mattress.
How to use a car to fill an air mattress?
An electric air pump is the best solution for blowing up your air mattress. You will need an air pump with an inverter that fits into your cigarette adapter or an outlet converter that works with plugs if your air pump is equipped with a standard plug fitting.
You can always look for a battery-operated air pump if your car can not accommodate the plug fittings.
As a last resort, you can use a good old-fashioned manual pump as people use for their bike tires, make sure you can create a seal between the plug and the pump so the air isn't escaping.
As a super, duper last resort…try a trash bag as one of the alternative ways to blow up an air mattress without a pump.
What size sheets do I need for a car air mattress?
Depending on the size of the air mattress you are using, the same rule of thumb applies for fitting sheets on an air mattress as you would on a standard mattress.
If you have a queen-size SUV inflatable mattress, then a standard queen-size sheet should work fine. Don't be concerned with a little gapping, or if it is too large, just tuck the excess under the mattress so that it doesn't come off while you are sleeping.
Note: If your air mattress is extra thick, like the 12" one from AirBedz Truck Bed Air Mattress – then I would go for the deep fitted sheet to make sure your air mattress is completely covered to avoid it rolling up in the night while you are asleep.
How much weight can airbeds support?
The weight can range from 400 to over 800 lbs. and accommodate anywhere from 2 to 3 adults. However, I strongly suggest you look at an air mattress's weight limits before purchasing if you hope to fit multiple people and pets comfortably on your air bed.
Remember that just because the weight limit is higher than another doesn't necessarily mean it will be more comfortable.
Compare the width and length of your air mattress to the weight and then decide if it is feasible to sleep more than one person comfortably.
Also, consider adding a foam mattress pad on top of your air mattress to make you feel more like your bed at home – it's especially useful for long trips and multiple nights sleeping in your vehicle.
Are car airbeds worth the investment?
Considering the average hotel room will cost you between $70 to $200 per night, and you can easily get a high-quality car air mattress for well under $100, which is a one-time-only cost – I would say that investing in a car air mattress is well worth the investment!
Besides, when you are on the road, and you see a great spot to spend some time and explore, possibly wanting to stay overnight – a car, SUV, or truck bed can certainly come in handy, allowing you to enjoy more nature and privacy then any hotel would ever offer you.
Note: Truck air beds can run a little higher in price, but that is to be expected since the space you are covering is much larger, and they are normally thicker than the average car air mattress.
How long should it take to inflate and deflate an air mattress?
A good quality air mattress should be able to be inflated and deflated within minutes, making it an easy process that just one person can quickly do.
Most high-quality air mattresses will have an electric air pump that can be used via your cigarette lighter adapter. Thinner air mattresses will take much less time.
If your air mattress does not come with an electric air pump, I suggest purchasing one to save you headaches when trying to find a place to get air for your air bed.
Of course, using a manual pump will take considerably longer than an electric air pump.
Wrapping Up
I hope you enjoyed reading this review to find the best car air mattress, best SUV air mattress, or best truck air bed and found all the information valuable in helping you make the best decision for your next camping trip.
Be sure to know the air mattress size that your vehicle can accommodate, and don't forget to test your new air mattress before your next trip by inflating it and making sure that everything is good to go – and most of all, enjoy the adventure!