Over the years, we have found that the most luxurious inflatable beds feature built-in pumps because of their great convenience.
An air mattress with a built-in pump can improve the air mattress experience, over the alternative option, which is an air mattress that inflates with an external pump.
Best 5 Air Mattresses with Built-In Pump Reviews
Here are our top 5 recommendations for the best air mattresses with built-in pumps.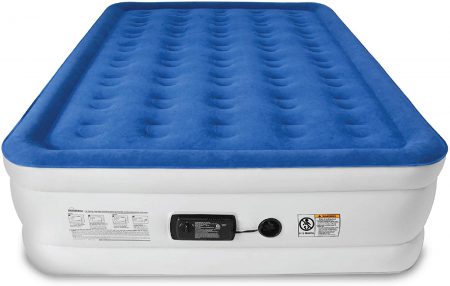 This is one of the bestselling air mattresses ever because of its durability and great size options, coming in twin, twin XL, queen, and king sizes.
WHAT WE LIKE
Consistently Comfortable – Firm, comfortable sleeping experience throughout the night
Very Supportive – ComfortCoil Technology features 40 internal coils to ensure total support.
Inflates Quickly – Built-in pumps fully inflate the mattress in 4 minutes
Soft, Waterproof Top – Soft flocked top with multiple layers of waterproof material
KNOW BEFORE BUYING
Takes A Couple of Uses To Stretch – Needs time to stretch for maximized comfort. fully
The SoundAsleep Dream Series Queen is the best inflatable mattress with a built-in pump available on the market.
This airbed features high-end ComfortCoil technology with 40 internal coils to offer a luxurious experience as the mattress keeps its shape throughout the night. The internal pump inflates the bed to optimal firmness in just 4 minutes.
Measuring 78 x 59 x 18 inches, this mattress is a true queen size that provides generous space for couples to sleep comfortably.
Sliding remains a common problem in most inflatable mattresses, but the sure-grip bottom design featured in this mattress ensures that the mattress stays firmly in position throughout the night.
The top of this mattress is constructed from extra-thick soft flocking fabric with superior waterproof capabilities.
It also features multiple layers of puncture-resistant material to guarantee the mattress can maintain inflated air.
With these top-notch features, you may forget you're sleeping on an air mattress.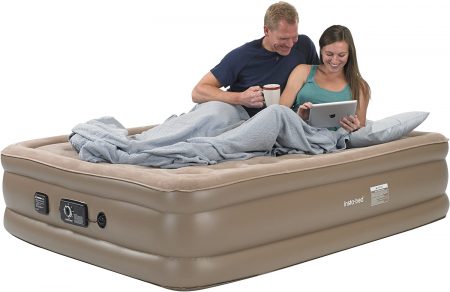 This air mattress uniquely features two pumps. The second pump silently keeps the mattress inflated throughout the night.
WHAT WE LIKE
Custom Firmness – Select the Plush, Medium, or Firm level for custom comfort
Highly Durable – Puncture-resistant materials and coil construction ensure a level sleeping surface.
Never-Flat Pump – Dual-pump system guarantees consistent inflation
Warranty – 12-month product warranty
KNOW BEFORE BUYING
For Indoor Use Only – Not designed for camping or other outdoor uses
The Insta-Bed Raised Queen Air Mattress features NeverFlat technology which guarantees that the mattress maintains its firmness throughout the night.
The NeverFlat technology consists of a 2-pump system. The primary pump ensures quick inflation and deflation. The secondary pump continually monitors and maintains perfect air pressure.
Conveniently, with just one click, the inflate button automatically inflates the mattress and shuts off when the mattress reaches peak firmness.
Also, the advanced coil system and construction materials are certified puncture resistant.
Insta-Bed believes that there's no one-size-fits-all solution when it comes to mattress firmness during sleep. You can choose from three built-in comfort levels: Plush, Medium, or Firm.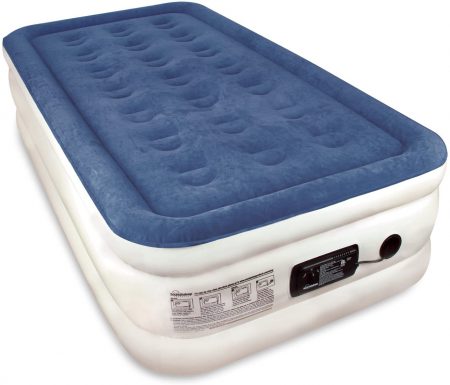 This product is the twin-sized version of one of the bestselling air mattresses of all time.
WHAT WE LIKE
Best Twin On The Market – Most advanced twin-sized air mattress with an internal pump on the market
Stays Inflated All Night – Manufactured with 21 internal coils to provide ultimate comfort.
Quick Inflation – Single-dial pump fully inflates the mattress in 3 minutes
No Sliding – Sure-grip technology prevents sliding
KNOW BEFORE BUYING
Pricey – A bit pricier than its competitors
Not Ideal For Outdoor Use – Not specifically made for camping or any outdoor use.
The Twin Sized SoundAsleep Dream Series is the perfect airbed with a built-in pump for a single user. Thanks to the 21 built-in coils, this mattress offers enhanced support.
This mattress's impressive comfort levels result from the extremely thick waterproof flocked top. The material comes in multiple layers and has certified puncture-resistant properties.
Whether you need to inflate the airbed or top it off fully, you can expect impressive speed from the internal pump. This single-click internal pump fully inflates the mattress in 3 minutes.
This air mattress is designed for indoor use and is a reliable substitute for traditional beds.
When fully inflated, this twin-sized airbed measures 78 x 38 x 18 inches. It features dual-chamber construction, making it one of the best raised inflatable mattresses on the market.
The bottom is enhanced with Sure-Grip technology to enable stability and eliminate sliding, one of the most common problems associated with airbeds. This product also comes with a convenient carry bag.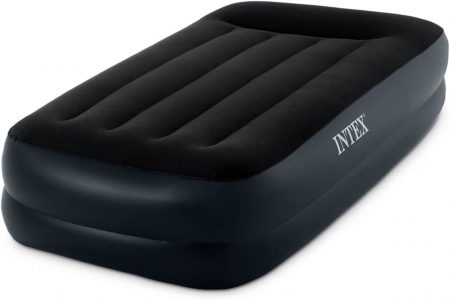 This excellent air mattress has a built-in pillow and is very comfortable.
WHAT WE LIKE
Great Price – Quality raised twin airbed at a great price
Quick Inflation – High-powered built-in pump fully inflates the mattress in 3 minutes
High Weight Limit – Supports up to 300 pounds of weight
Comfortable Waterproof Top – Waterproofed flocked top offers a comfortable sleeping experience
Built-In Pillow – Built-in pillows for greater comfort
KNOW BEFORE BUYING
30-Day Warranty – A short warranty compared to other options
Hard To Fold – Folding into a compact bundle may be challenging
The Intex Pillow Rest Raised Airbed offers wonderful features at an affordable price.
The waterproofed flocked top with vinyl beams prevents squeaking throughout the night and provides continual, sturdy support.
Amazingly, it only takes approximately 3 minutes to inflate this mattress, thanks to the internal air pump fully.
This mattress is raised 17 inches off the floor, making getting in and out of bed easier. This airbed also can support up to 300 pounds of weight.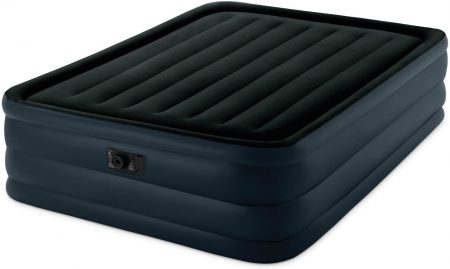 This air mattress is a great budget-friendly option.
WHAT WE LIKE
Extra Support & Firmness – Dual-chamber construction for extra support and firmness
Comfortable – Soft flocked top ensures absolute comfort
Quick Inflation – Internal high-powered electric pump fully inflates the bed in 3-4 minutes
Good Price – Great price for a great product
KNOW BEFORE BUYING
No Manufacturer Warranty – Intex offers no warranty
The Intex Raised Downy Airbed is a great affordable option. This large-sized model is spacious and offers enough support for two people to sleep comfortably.
One of the most essential features to consider in an airbed is inflation and deflation time. The built-in extreme-power pump fully inflates this mattress in less than 5 minutes.
The waterproofed flocked top design ensures comfort throughout the night, and the vinyl beams and sturdy construction provide consistent support.
This queen airbed features indented sides, which keep bed sheets in position while you sleep, and the mattress is raised 22 inches for maximized comfort.
This model also comes with a carry bag for storage or travel.
Advantages of Inflatable Mattresses with Internal Pumps
One of the perks of these built-in pump airbeds is that you don't have to spend extra money on a separate pump.
If you have a power source nearby, you can easily inflate and deflate built-in pump airbeds at your convenience.
Additionally, some air mattresses with internal pumps have Never-Flat technology.
This dual-pump system features a secondary pump that ensures your air mattress won't deflate overnight.
Disadvantages of Inflatable Mattresses with Internal Pumps
Not Ideal For Camping
Airbeds with built-in pumps can only be powered up when connected to an electrical outlet.
Investing in a 12V car air pump is the only way around this. These standalone mattress pumps vary in price, and your vehicle should be near your tent for the pump's cord to reach your car.
If you're in the market for an air mattress specifically for outdoor use, you might consider purchasing an air mattress specifically designed for car camping.
It can Be a Bit More Expensive.
These air mattresses can be a bit more expensive than their traditional air mattress competitors.
The Verdict
The air mattress with the built-in pump you choose will depend on your budget and size needs. The needs of a consumer looking for a narrow air mattress differ from those of someone looking for a comfortable airbed for two people.
The SoundAsleep Dream Series Queen is our #1 pick for the best inflatable mattress with a built-in pump.
It is the perfect queen-size model for consumers willing to pay a bit more for the luxury this model offers.
The Twin Sized SoundAsleep Dream Series provides absolute comfort for a single sleeper but at a higher cost. This mattress is one of the highest-rated online.
The Intex Raised Downy Airbed gives you the benefits of a queen-sized airbed at an unbeatable price.
The Intex Pillow Rest Raised Airbed is a great option if you want a smaller mattress on a budget.
No matter which option you choose, the models we've reviewed are the best-selling options, purchased by countless people every day. We are proud to help you buy with confidence!