What is the definition of a Low air loss mattress? And why should you even consider buying one?
Well, it is a type of inflatable mattress recommended medically for patients who are bedridden or forced to spend a lot of time in bed.
The thought of being forced to sleep all day long due to ill health is something that scares all of us.
In fact, Most of us won't wish that on our worst enemies, but this is life, and things happen.
We are sorry if you are reading this review and can feel your pain. We can imagine how hard it is that you or someone you love has to spend a lot of time in bed.
Hopefully, you will only need this mattress temporarily, and full recovery will be achieved soon.
When you need one of these medical inflatable mattresses, getting the best one is an absolute must. Even if you don't have any underlying medical condition, these models are still ahead of the best inflatable mattresses.
Top 5 Low Air Loss Hospital Mattresses Available For Sale
We believe the best way to ensure you end up with the right model is to test these mattresses ourselves. After extensive tests and consultations with experts and everyday consumers, we have compiled the best 5 models available for sale.
Let's dive right into them and see which ones are worth your time and hard-earned dollars.
1. Alternating Pressure Mattress by Vive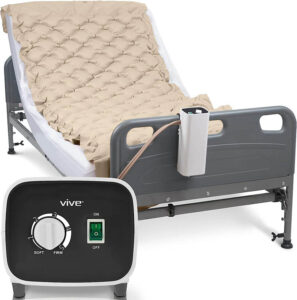 WHAT WE LIKE
Designed with 130 different air bubbles for a super dry and cool skin
Extremely intuitive and easy to set up
Supports people weighing up to 300 pounds
Extremely affordable compared to rival products
KNOW BEFORE BUYING
Mattress may slide in some beds unless you find some form of security for it.
The Alternating Pressure Mattress is our pick for the best low-air loss hospital mattress. With the mounting bills that come with serious illnesses, you shouldn't have to rob the bank to get comfortable bedding for an air mattress.
It is designed with 130 air bubbles to give your loved one supreme comfort all day. Even support throughout the whole body and flawless weight displacement is essential to be expected.
This low air loss system is constructed from heavy-duty vinyl material built to withstand extensive usage. It can support patients weighing up to 300 pounds and comes equipped with a flexible binding hose.
The built-in alternating pressure engineering relieves Pressure ulcers, pressure spots, and joint pains. For patients who are not yet suffering from these conditions, this mattress prevents them from occurring in the first place.
Like other Vive models, this mattress is super comfortable and incorporates a variable pressure dial for custom airflow. Achieving restful sleep will never be easier until your loved one gets this mattress.
The mattress pad is designed to last for a long time and comes with a 90-day warranty. Vive provides excellent customer support and gives an additional 12-month warranty for the pump included with this unit.
2. Drive Medical Med Aire Low Air Loss mattress Replacement System with Alternating Pressure, Dark Purple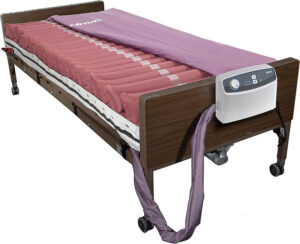 WHAT WE LIKE
9 out of 20 air bladders come with laser holes
Zippered mattress manufactured from urethane-coated quilted nylon material
Continuous low air loss is guaranteed
An audible alarm system tracks the patient's progress and alerts caregivers if the health condition ever goes south.
KNOW BEFORE BUYING
Finding replacement bladders after extensive use can be difficult
No warranty
The Drive Medical Aire Mattress is the 2nd top pick by our team of experts. It is specifically designed for pressure ulcer prevention, treatment, and management. If you must spend extensive time in bed, this model can't be beaten.
Engineered with 20 air bladders, with 9 specifically featuring laser holes, everyone eventually falls in love with it.
The laser holes give patients ultimate comfort through the perfect achievement of minimal air loss.
All affected body areas are flawlessly kept dry and cool, two prerequisites for a speedy recovery. Manufactured from PVC and nylon, the 8-inch air cells are designed to give optimum performance extensively.
The mattress cover is constructed from a quilted nylon fabric specially coated with urethane to enhance patients' comfort further. It is machine washable and permeates vapor well enough so patients can stay in bed peacefully all day long.
The mattress comes with a special vibration feature that allows patients to take peaceful rests. It integrates audible alarms that alert a caregiver when a patient's condition worsens.
The "Ultra Quiet" pump guarantees consistent airflow so a patient never ends up on the floor. It ships with the mattress at no extra charge so you don't have to spend more to get one.
3. Drive Medical 5″ Med Aire Low Air Loss mattress Overlay System with APP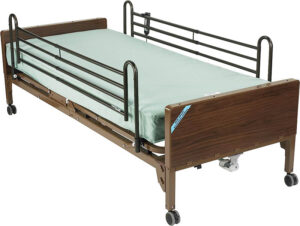 WHAT WE LIKE
Flawless low air loss and alternating pressure system for ultimate comfort
8-inch cells provide cushion and comfort for the notoriously thin hospital beds
Guaranteed reliable airflow at 8 liters per minute
Digital pump with alarm system and LED indicators
KNOW BEFORE BUYING
Bed sheets don't fit snugly with the padded wedges
The warranty is valid for only 30 days
The Drive Medical Delta Ultra Light Semi-Electric Bed Therapeutic Support Mattress is perfect for both short-term and long-term recovery.
With most hospital beds notorious for being excessively thin, this 8-inch overlay takes sleeping comfort to the next level.
Getting a low-air mattress for your loved one through Medicaid or in a nursing home can be a nightmare.
This is why most people invest in one of these mattresses out of pocket so their bedridden loved ones can get the sleep they deserve within the shortest period.
Lots of patients continue to derive enhanced comfort from this combination therapy system.
The low air loss system ensures optimum pressure distribution, which works with the alternating pressure functionality to prevent/treat and manage various pressure ulcers.
Caregivers can customize this system to meet the individual needs of patients via the digital pump and alarm. Thanks to 3 built-in static air cells, patients get awesome comfort levels.
The 8 liters per minute digital pump performance level guarantees consistent airflow to every inch of this mattress.
With 20 air bladders and 8 laser holes, this model achieves low air loss flawlessly. The cells measure 8 inches each and are manufactured from lightweight and extremely soft nylon material for absolute comfort.
This low air loss overlay system transforms even the most uncomfortable hospital mattress to a paradise for patients. You can't go wrong with this unit if your loved one needs to recuperate.
What is A Low Air Loss Alternating Pressure Mattress?
It is an elite inflatable mattress designed with a surface covered by many laser micro holes. These holes allow air in smaller quantities by default to ensure optimum airflow on the body.
It gives sleepers high levels of comfort by enabling just the right amount of humidity and heat on the skin.
These mattresses are an absolute must for those who spend a lot of time in bed due to medical reasons. Being forced to overstay in bed has associated problems such as body sores.
When you have just been involved in an accident or another serious medical condition that affects your mobility, the last thing you need is to compound your problems by sleeping on an ordinary mattress.
Getting the Best Low Air Loss Mattress
Medical experts and industry gurus insist on these types of mattresses for the bedridden. Does this mean you should head to Amazon.com and purchase the first model you come across?
Or Are there some specific features you should look for before you press the Buy Button?
In our experience, the bedding layer is the most important feature to consider when seeking the best low-air-loss inflatable mattress. To fend off body sores and other medical conditions, getting a model with minimum layer of bedding is vital.
The best units are available for sale are engineered with alternating pressure to ensure soothing relief for body pains. If you have a bad back, getting one of these mattresses could be lifesaving.
While these are the best options for this particular type of mattress, it's worth considering thin-air mattresses for camping as well as they offer a similar benefit.
The Verdict
Having a loved one suffer from a serious medical condition or recuperating from an accident can be difficult. However, getting ultimate comfort for him or her can make a big difference in the quality of life experienced.
Whether in the hospital or recovering at home, a durable medical air mattress can really enhance the quality of life of a patient.
The Vive Alternating Pressure Mattress is our number one pick for the best Low air loss mattress. It comes with everything required to give your loved ones a restful sleep all day long.
The other 4 options are equally great and have been tried and tested over the years. Getting any of them will deliver ultimate protection against pressure ulcers and body pains.