An air mattress pump is one of the most important accessories for everyone who owns an inflatable mattress.
These pumps are useful for blowing air into your mattress to become firm enough for comfortable sleeping through the night.
Airbed pumps are also designed to suck the air out of your inflatable beds so you can pack it up on the go or for storage.
Let's look at the types available for sale today so you know exactly what you are getting into.
Top 5 Air Bed Pump Models on the Market
We are a bunch of lazy people here at Air Bed Comparisons and always choose automated options over the manual. That is why 4 out of our top 5 picks are electric and battery-powered air pumps.
We have taken the time to test and review hundreds of pump models on the market.
This is meant to help you choose wisely during shopping for an airbed pump. Let's see which ones are the best at the moment.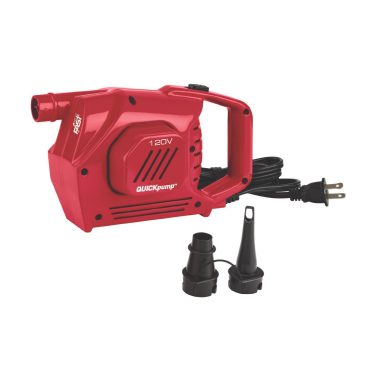 Best option for those on the go (with the car electricity option). An all-around great pump.
WHAT WE LIKE
Fast Inflate/Deflate design quickly fills up the airbed within minutes, regardless of its size
120V plug is compatible with all electrical outlets at home
12V model option available if you prefer a car-powered airbed pump
Extra adaptors for connecting double lock, Boston, or pinch valves
KNOW BEFORE BUYING
It comes in 4 different styles, so make sure you get the right one for your needs to avoid disappointment
The power cord for the 12V car-powered style should be longer
The Coleman QuickPump is an effective way to inflate or deflate just about any airbed at home quickly. Reviewed with impressive scores by hundreds of Amazon buyers, having regrets after purchasing this model seems out of the question.
The most impressive feature is the Fast Inflate and Deflate design because everyone wants a pump that fully blows up and deflates with quick efficiency. It gives you the benefit of inflating your air mattress in a quicker time frame than competitor models.
The 120V pump plugs into any electrical outlet at home. You can choose the 12V pump option for a car-powered airbed pump. Coleman has got you covered whether you need to fill up your air mattress at home or in the middle of nowhere.
The inflatable mattress pump has extra adaptors, so you can easily fix it to pinch valves, double lock valves, or Boston valves.
When you are done having fun, this pump quickly deflates your airbed into a portable unit for convenient storage.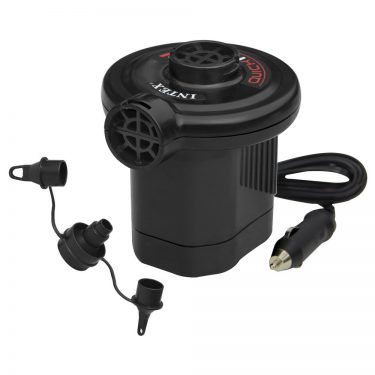 This is a great car-powered air mattress pump. It works well on the go and reliably fills up your inflatables, even if it's a little loud in the process.
WHAT WE LIKE
Freedom to pack many inflatable products in your car without the need to fill them up at home first
Fills up even large inflatables in record time
It comes with a 12-volt DC power plug compatible with every car
Perfect for all outdoor activities
KNOW BEFORE BUYING
The power cord could definitely be longer
The pump is quite loud during the operation
Filling up your airbed swiftly away from home can be a relief when you are in a hurry. It gives you the freedom to pack as many inflatables as you want on your trip because you know you can easily blow them up upon reaching your destination.
The Intex Quick-Fill DC Electric is a car-powered super-fast pump that fills up your airbeds in record time. This pump is equally effective for filling up inflatable kids' pools, rafts, and other products.
It comes in a sleek, compact design that easily fits in your palms so that you can carry it for even longer distances.
Featuring 3 interconnecting nozzles, you can be sure that even gargantuan inflatables can be quickly filled within just minutes. It allows you to focus on other, more enjoyable camping-related activities.
This quality pump has a 12-volt DC power plug compatible with every car power outlet. If you have a car around, re-filling or deflating your airbed whenever you want shouldn't be a problem.
Without a doubt, this is the best airbed pump for camping.
A great option for those going into the great outdoors without access to electricity.
WHAT WE LIKE
Simple and easy to use
Requires no batteries or plugging into electrical outlets
Double action pump design ensures quick fill-up and deflation
3 different nozzles with hoses for connecting with different inflatable products
KNOW BEFORE BUYING
Manual deflation and inflation could be tiring
Not as fast as electric and battery-powered airbed pumps
The Intex Double Quick III is the ultimate manual inflatable mattress pump for the outdoors. It is simple to use and doesn't require plugging it into an electrical outlet.
Most people rely on battery-powered pumps for outdoor activities, but we all know they can die anytime. Having your pump's batteries die on you in the middle of nowhere can be a nightmare.
The Intex Double Quick III is perfect for outdoor camping, fishing, and hunting. With sheer strength from your hands, this pump can inflate and deflate any air mattress.
Blowing up inflatable material is simple and fast, thanks to the double-action pump design. It ensures air is effectively pumped on both up and down strokes for maximum inflation or deflation.
Unlike other manual air pump models, this unit effectively fills up a large airbed within a short time.
This is essentially the best manual air bed foot pump available for sale today. It is flexible and comes with 3 different interconnecting nozzles with hoses for inflating and deflating different products.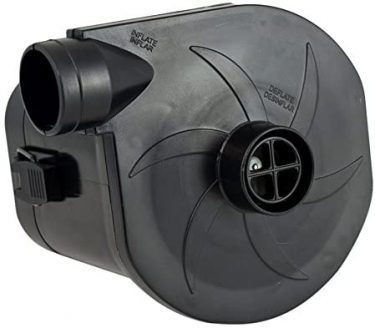 A great air mattress pump which fills up quickly and quietly. Comes with many different-sized nozzles for maximum compatibility.
WHAT WE LIKE
Extremely powerful yet quieter than other brands on the market
3 detachable nozzles make it compatible with hundreds of brands of airbeds, pools, and inflatable rafts.
Compact size delivers mind-blowing performance
KNOW BEFORE BUYING
The nozzle keeps falling off when not properly attached to the inflatable mattress
The Smart Air Beds Electrical Pump is suitable if you have just bought an inflatable mattress with a useless pump. If the airbed you own doesn't include a pump, this is one of the best options available for you too.
Featuring 3 superbly designed nozzles, this pump is perfect for filling up and deflating any inflatable product on the market. It is easily detachable and designed for airbeds, inflatable balls, pools, and sofas.
It is super-quiet, unlike some rival units, which can be extremely loud during operation. The high capacity integrated into it beats the competition, hands down. No wonder many consumers believe it is the most advanced electric inflatable mattress pump on the market.
This is one of the few pumps rigorously tested and certified by independent sources. It comes with ET and UL certification, guaranteeing you purchase a safe and quality product.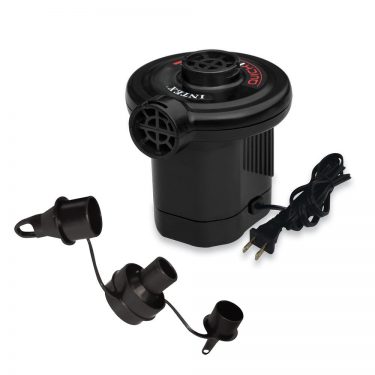 Another great pump that will serve you well for indoor use.
WHAT WE LIKE
Well-constructed to stand the test of time
120V pump is compatible with all electrical outlets at home
Quick-Fill technology ensures inflation/deflation of large products within just minutes
Compact design with a small footprint for easy storage
KNOW BEFORE BUYING
Not suitable for outdoor activities because it requires plugging into electrical outlets
It's a little noisy during inflation or deflation
The Intex 66619E Quick-Fill is one of our tops recommended electric air bed pump for inflatable mattresses, sofas, and pools.
This pump is perfect for any inflatable product that doesn't require a bicycle attachment. It is a standard pump that starts inflating your air mattress as soon as it plugs into an electrical outlet.
3 different-sized nozzles are featured in this mattress pump to make it compatible with any inflatable you can think of. From water slides to airbeds as well as inflatable sofas. And pools, this pump makes inflation and deflation a breeze.
Once you start using this superb air pump, you begin to wonder how you managed to live without it in the past. The compact design makes it easy to carry around and doesn't take up too much space in your home.
It is well constructed with strong parts, so you can be sure that they will last for a long time. The Quick-Fill design guarantees that even the largest inflatables can be filled up or deflated within a few minutes.
Types of Inflatable Mattress Pumps
Different types of inflatable mattress pumps are designed to meet consumers' custom needs and preferences.
Electric AirBed Pumps
Electric air pumps are powered by electricity and require plugging into a power outlet for use. They are useful for quickly inflating and/or deflating air beds and other inflatables.
The only downside is that they can't be used outdoors or anywhere else without electricity access.
Battery-Powered Pumps
This is another type of mattress pump popular among campers and people who love outdoor activities. Whether you are going camping or on an overnight fishing trip, they can be a great addition to your camping gear.
Most battery-powered air bed pumps are powered by lithium and other batteries, which are commonly available.
Filling up your bed whenever you need to nap shouldn't be a problem as long as your batteries are working.
Manual Air Pumps
These are the oldest type of air bed pumps and have the advantage of not requiring electricity or batteries.
Also known as air mattress foot pumps, they were popular among campers and outdoor buffs a few years ago. However, their popularity has been overtaken by battery and electric-powered rivals in the last couple of years.
Their main disadvantage is that they require manual strength to power them up.
If you want an easy way to fill up your inflatable mattresses, this type may not be for you.
Another drawback is that they can be quite slow, especially when time isn't on your side.
Relying on foot pumps to fill your airbed can also be tiring.
The Verdict
We have just revealed the best air mattress pump models money can buy. It is up to you to choose the most suitable unit, depending on your preferences.
Our number one pick for indoor usage is the Intex66619E Quick-Fill. It has practically every feature you need to enjoy effortless inflation and deflation of your air mattress.
If you prefer a car-powered pump then the Coleman QuickPump should be a no-brainer.
Finally, you should consider getting the Intex Double Quick III S Hand Pump if you want a manual-operated foot pump.
Choose the right airbed pump, and your life will never be the same.