I recently had the pleasure of reviewing the Intex Comfort Plush Dura-Beam Airbed and am excited to report back about my findings.
This air mattress is one of the most popular air bed products of all time and comes very highly reviewed. We've also featured it in our list of the best-raised air mattresses.
In A Hurry? Our Quick Decision…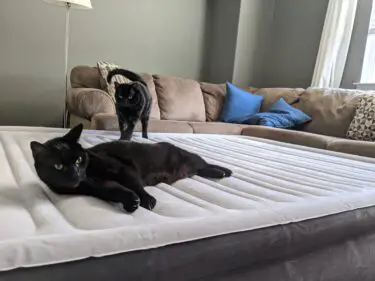 The Intex Comfort Plush Dura-Beam Airbed is a great option for anyone looking for a budget-friendly air mattress for their home or car-based travels.
It's durable enough for light outdoor use if needed and is far more premium and reliable of an option than you might expect. 
Options & Price Point
This air bed comes in Twin, Full, and Queen sizes and each of these sizes is also available in Mid Rise (13"), Elevated (18"), and Extra Elevated (22").
No matter which option you select, this air bed firmly lands on the budget-friendly end of the market. For this review, I took a look mostly at the Queen size, but, considering it's the same product by the same company, it applies to all sizes.
Specifications & Warranty
It's worth noting that each configuration is not always available at any given time, and the pricing is different for each.
Specifications
Price Point
Material
Sizes
Twin
Full
Queen
Elevation Options

Mid Rise (13")
Elevated (18")
Elevated (22")
Warranty
Beyond Amazon's 30-day return policy, the Intex Comfort Plush Dura-Beam Airbed comes with a 90-day Limited Warranty from Intex, covering manufacturing warranties but not including any issues with the air mattress that might result from negligent use.
Using this air mattress outdoors would likely be considered negligent use.
Inflation & Deflation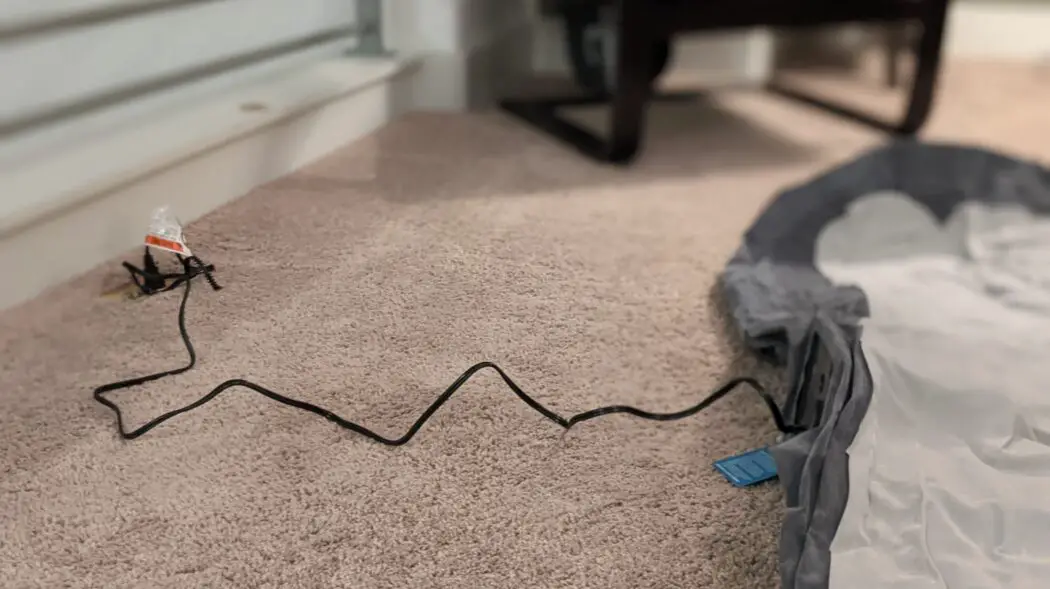 The Intex Comfort Plush Dura-Beam Airbed comes with a built-in pump for easy inflation and deflation.
It also supports manual and external pump inflation if you don't have access to power (or if the built-in pump doesn't work for some reason).
To inflate, plug in the air mattress to a regular wall socket and flip the switch from off to the up position (inflate).
The inflation time for this air mattress is a bit slower than some (4 minutes or so), but I'd consider that one of the least important factors to consider when buying an air mattress.
To deflate, simply move that same switch to the down position (deflate). This will suck the air right out of the air mattress.
Portability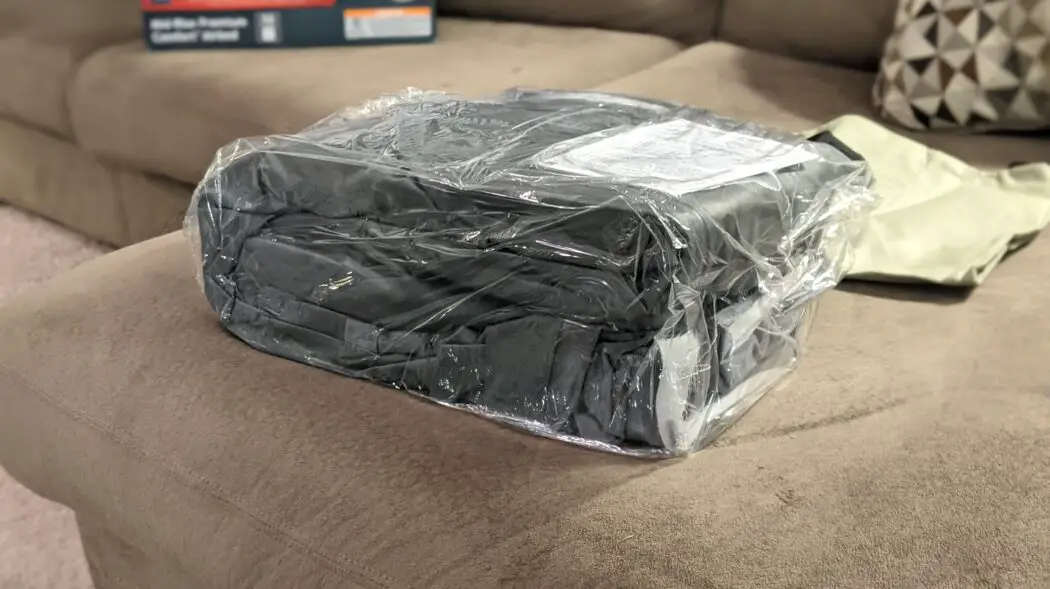 The Dura-Beam does come with a carrying case and gets down to a fairly small size, even with the built-in pump.
For example, the Queen size, 18" Elevated model is 19.74 pounds and, when condensed, is about 6" by 18" by 18".
The Twin and Double models would be a bit lighter and smaller.
We don't love the carrying case, but the good portability makes this air mattress a very good option for home use and travel use, though we do distinguish between travel use and outdoor use (which I'll get into soon).
Special Features
The Intex Comfort Plush Dura-Beam Airbed isn't the most premium air bed and, as such, doesn't come with too many bells and whistles. There are a couple of features worth mentioning, however.
Built-In Pump
The built-in pump means you don't need a separate device to inflate and deflate the air mattress.
While it's not the most powerful pump we've seen (4+ minutes to fill up), we think it's a perfectly good pump and don't take anything away from the mattress for the extra minute or two to inflate.
Pillowtop Air System & Velvety Top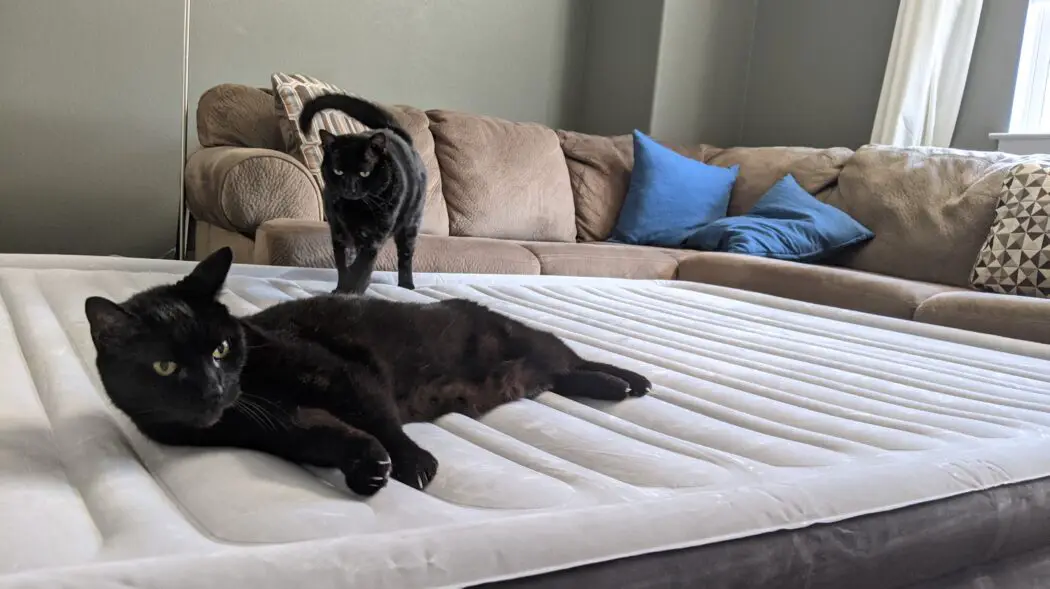 Intex boasts of the pillowtop air system to add some extra comfort to the top of the mattress. It's perhaps subtle, but it does seem to add a bit of softness to the top of the mattress.
The top of the mattress is a velvet-like material which does help keep things warmer and helps the sheets to not move around in the middle of the night.
Plus, my cats seemed to like it! (and they didn't puncture it too).
Indented & Velvety Sides
The indented sides give bed sheets something to grip onto, helping to ensure they don't slip off in the middle of the night.
The sides, also made of velvet, help with sheet slippage as well as add some extra durability to protect against punctures.
Edge Lock Construction
This is just a fancy way of saying that the sides are raised a bit which is quite a good thing.
Essentially, a higher edge (with air inside of it) helps ensure the edges are a bit more firm, allowing you to sleep closer to them without feeling like you're falling off. It also keeps the mattress feeling a bit more stable.
Ideal Use Cases
This air bed, especially considering the price point, is actually quite versatile. Let's get into the different use cases we'd recommend (or not recommend) the Intex Comfort Plush Dura-Beam Airbed for.
Home Use
Occasional Home Use
Yes, this air mattress is perfect for occasional home use. It's comfortable enough to keep visitors happy for a night or a long weekend and is incredibly easy to store, unpack, inflate, deflate, and store again.
Everyday Home Use
Yes, the Intex Comfort Plush Dura-Beam Airbed could be used daily without issue. If it were me, I'd probably try to invest in a little bit more premium air bed if I was able to afford it (but to each their own).
If I did set this up for everyday use, I'd definitely get an air mattress topper and look into some other ways to make the air mattress more comfortable.
Outdoor Use
Camping
The fact that this air mattress is as inexpensive as it is makes it a fairly low-risk proposition to take tent camping.
No, camping is not what this air mattress is designed for, and you may be voiding your warranty by doing that, but plenty of reviewers have been using these air mattresses for years.
Just make sure you put it on even ground and clear the area under your tent for anything sharp. If possible, put it on some type of padded material.
We wouldn't recommend the Dura-Beam for car, SUV, or truck camping…they're just too thick, and there are better alternatives.
Just make sure you bring a hand pump or some type of portable battery-powered air pump if you don't have an AC-to-DC converter for your car.
Backpacking
No, this will not be a good option for any situation where you don't have a car to transport it. It's too big and too heavy.
Travel
If you can get the Dura-Beam to where you're going, there's no reason you shouldn't use this air mattress for travel. This is perfect to throw in your car and take to a friend's house or a hotel where you're cramming many people in.
It's not small and lightweight, though technically it should fit in even a small suitcase and weighs less than 20 pounds, so you could technically take it on an airplane if you need to.
Things We Love
Excellent Price
For quality, the Intex Comfort Plush Dura-Beam Airbed is an excellent price.
Many Options
It comes in twin, double, and queen, with each size having different height options (13", 18", 22")…it really does cater to every need. Wish there was a king-size, though.
Built-In Pump
The built-in pump is reliable and helps make this bed even more portable since you don't need to carry a separate pump.
Keeps Its Air & Is Durable
This air mattress is known to keep its air (and if it doesn't, use the 90-day warranty) and has some extra durability features. That, combined with its low replacement cost, makes it acceptable for camping (even if it's not built for it specifically)
Know Before Buying
Stretch It Out First
This air mattress does require a bit of stretching out beforehand. You won't damage the air mattress by using it the first night that you inflate it, but Intex recommends that you inflate it,
keep it inflated, then add more air to it as it stretches out.
Might Need Topping Off After Multiple Days Of Use
A few people have reported that the Intex Comfort Plush Dura-Beam Airbed will lose a bit of air over time and needs topping off after a few days.
That's not uncommon, especially for budget air mattresses. I can't help but wonder if these people didn't follow the instructions to stretch it out before use.
Bad Carrying Bag
It's definitely hard to get the air mattress back in the bag…might be worth finding something else to transport this in.
Final Verdict
We're definitely "in" on the Intex Comfort Plush Dura-Beam Airbed and would recommend it to anyone looking for an air mattress for home use, travel, or some light camping in the budget price range.